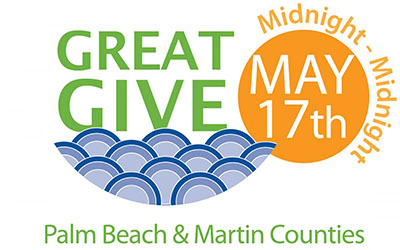 A total of 415 local nonprofits serving essentially every need will take part in the fourth annual Great Give Palm Beach & Martin Counties on Wednesday, May 17.
The 24-hour online fundraising event is hosted by the United Way of Palm Beach County, Achieve, Nonprofits First and the United Way of Martin County. The Great Give celebrates the spirit of giving and the collective effort it takes to strengthen community by raising critical funds for local nonprofits.
Great Give hosts and sponsors will make the day even more exciting by providing cash or valuable prizes for nonprofits to compete for during every hour of May 17. Plus, every gift will be amplified by additional dollars from a bonus pool raised by the United Way of Palm Beach County.
In addition to the funds raised, bonus pool dollars and prizes, nonprofits will also benefit from the generosity of local businesses that have supported the community's only online giving event by offering special promotions, in-store incentives, happy hours and much more, including the Great Give CityPlace Takeover.
On May 17, from 10 a.m. to 9 p.m., Great Give hosts and participating nonprofits will take over CityPlace. The plaza and surrounding areas will be filled with arts and crafts, animals for adoption, dancers, performers, live music, information and, most importantly, easy ways to give to the nonprofits of your choice.
"CityPlace is committed to supporting important efforts that contribute to the betterment of the community, so we're thrilled to partner with the Great Give Palm Beach & Martin Counties to help raise millions of dollars for community good in just a single day," said Ryan Hallihan, general manager of CityPlace.
CityPlace businesses will offer special promotions throughout the day, and the United Way of Palm Beach County's headquarters will be home to the Great Giving Lounge, where visitors can use a computer to make a donation and enjoy a sip and a snack while mingling with host partners and sponsors.
Sponsors of the Great Give Palm Beach & Martin Counties include: Alpha Media, CBS12 News WPEC, CityPlace, Covelli Enterprises, Evelyn & Arthur, First Bank of the Palm Beaches, FPL, Hartlines Custom Interior Workroom, Ideabar, Kendra Scott, Leila Restaurant, Lexis Nexis, Modernizing Medicine, Mutual of America, NCCI, the O'Donnell Agency, Phil-com, RSM, Sweet Boo Design and Tracey Benson Photography.
Anyone can give on May 17 by visiting www.greatgiveflorida.org or by calling (877) GIVE-DAY. Special events held by participating nonprofits are being shared on Facebook by host partners. Follow #GreatGive17 on social media for contests and updates.