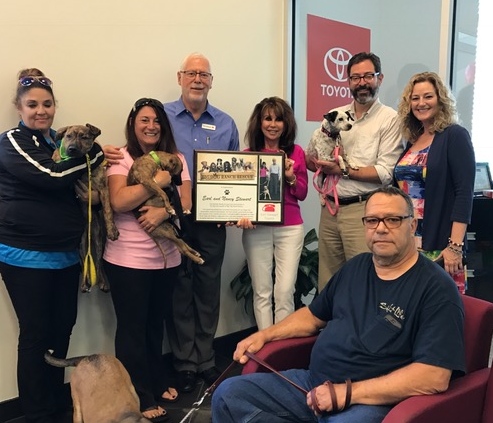 Dogs and their adopters brought together by the Earl Stewart Toyota/Big Dog Ranch Rescue adoption program celebrated its success at a reunion event recently.
Since Earl Stewart Toyota started its Dog of the Month adoption program with Big Dog Ranch Rescue in September 2015, 40 dogs have been found forever homes through the program. The dealership paid the $200 adoption fee for each dog, which includes neutering or spaying, micro-chipping and vaccinations.
In addition, Earl Stewart Toyota has contributed about $150,000 to the shelter, including the gift of a refurbished van to transport dogs to weekly adoption events. Stewart has also included Big Dog Ranch Rescue in ad campaigns and sponsored many special events for the shelter.
ABOVE: (L-R) Jennifer DiCaprio, Zarra Roach, Earl and Nancy Stewart, Stu Stewart, Robin Friedman and Dan Vinayi (seated) at the reunion.