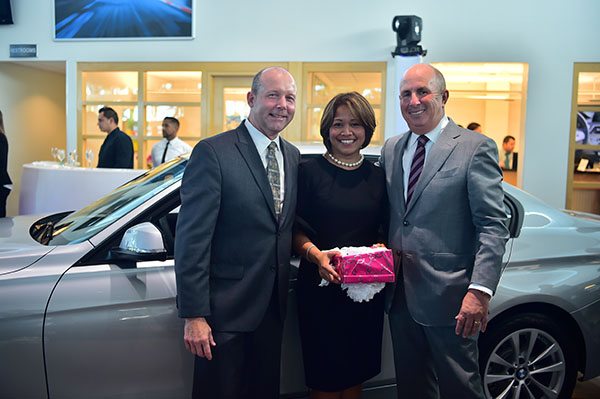 Braman Motorcars surprised two Palm Beach County educators with new BMWs during an awards ceremony held recently at Braman Motorcars in Palm Beach.
Jane Winters, afterschool site director at Beacon Cove Intermediate School in Jupiter, won the School-Related Employee of the Year, and Dr. Evangeline Aguirre, intensive reading and English teacher in the English for Speakers of Other Languages (ESOL) program at Wellington's Palm Beach Central High School, is the Teacher of the Year.
"Partnerships between the school district and our local businesses are essential to the success of our students and schools," Palm Beach County Schools Superintendent Dr. Robert Avossa said. "Our community and business partners are important to the district, and we are grateful to Braman for stepping up to help us recognize these employees."
Hosting the reception is just part of a growing partnership between Braman Motorcars and the Palm Beach County School District. The company has joined with the automotive academy at Park Vista High School to provide training and on-the-job experience for students and is conducting a job fair at the dealership later this month for students to explore automotive careers.
Braman also has given educators information on real-world demands of the job market to take back to students, and recently has begun offering incentives to district employees for the purchase of BMWs and Minis through a new Corporate Fleet Program developed with the school district.
"The development of our youth is paramount to the long-term success and development of our community," said Stephen Grossman, general manager of Braman Motorcars. "We plan to support the school district's five-year strategic plan and lead by example so that other county businesses see the potential to invest in our collective futures through our public school system."
For more information, visit www.bramanmotorcars.com.
ABOVE: Teacher of the Year Dr. Evangeline Aguirre is surprised with a new BMW. She is shown with her husband, Stan Crooks (left), and Braman Motorcars General Manager Stephen Grossman.