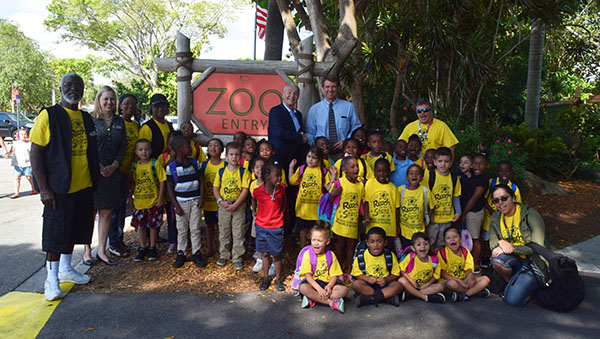 The Palm Beach Zoo & Conservation Society recently received a grant of $7,500 from the Palm Beach Country Club. The grant will cover the initial design costs for the new Nature Play Exhibit.
As a conservation organization, the Palm Beach Zoo is committed to the education of children in the community by providing them with the conservation science knowledge and the inspiration to act on behalf of wildlife that will create the next generation of environmentalists.
The Nature Play Exhibit will allow the zoo to help children of all ages develop their personal relationships with the natural world through purposeful play.
More than half of the zoo's 340,000 annual visitors are children, and the Nature Play Exhibit will extend the zoo's ability to teach children in nontraditional ways. The area will provide children opportunities to discover and connect with nature through play activities and hands-on programs.
"The zoo is a tremendous community asset, and we are proud to support them," said David Mack, chairman of the Palm Beach Country Club Foundation.
As a home to more than 550 animals, many of them endangered, the Zoological Society of the Palm Beaches exists to inspire people to act on behalf of wildlife and the natural world. The institution advances its conservation mission through endangered species propagation, education and support of conservation initiatives in the field.
The Palm Beach Zoo's commitment to sustainable business practices elevates its capacity to inspire others.
The zoo is located at 1301 Summit Blvd. in West Palm Beach. The grounds are open from 9 a.m. to 5 p.m. every day, except Thanksgiving and Christmas. To learn more, visit www.palmbeachzoo.org.
ABOVE: David Mack, chairman of the Palm Beach County Club Foundation (left in back), with Andrew Aiken, CEO of the Palm Beach Zoo, and visiting children.