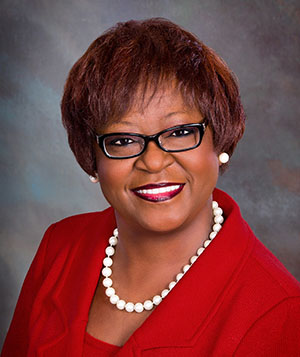 The Palm Beach County Commission approved a five-year contract extension for County Administrator Verdenia Baker on Tuesday at her current annual rate of $273,183.
Baker replaced longtime County Administrator Bob Weisman in August 2015 after serving as his deputy administrator for 15 years, and 30 years as a county employee. Her current contract expires Aug. 26.
Mamie Kisner, a member of Tabernacle Missionary Baptist Church where Baker is also a member, recalled how she stood before the commissioners two years ago asking them to do the right thing and promote someone who was prepared, educated and had been mentored by Weisman, who recommended Baker as his replacement.
"Not only is Verdenia respected in this county, in this state, but throughout the nation, and so I think we have a jewel in Verdenia Baker," Kisner said. "Yes, she is a member of our church, but I have been able to serve on boards with Verdenia and seen her leadership separately from just here in front of the dais, so we fully support her. She has faced a lot of challenges during these two years, but the transition of her leadership in the last two years, I think she deserves a better chance to show us what she will continue to do in the future."
The provisions of Baker's contract include a limit of 26 weeks' pay in her separation agreement if she chooses to leave.
Her salary of $273,183 for a population of almost 1.4 million is on scale with Florida counties of slightly smaller populations, such as Orange County, with a 1.2 million population and an administrator salary of $247,749, and Hillsborough County, with a population of 1.28 million and an administrator salary of $267,800.
The Palm Beach County School District's superintendent earns $325,000, and Miami-Dade County has an elected mayor and five deputy administrators with salaries comparable to Baker's, according to a county staff report.
Other county employees holding five-year contracts are the county attorney and the auditor.
Vice Mayor Melissa McKinlay said that two years ago, when the question came up whether to hire Baker, she voted for an outside employee to come in.
"I was of the mindset at the time of shaking things up, and I have to say that today, I am happy and proud to support an extension of Ms. Baker's contract for five years," McKinlay said. "I have been tough at times, and she has responded each and every time to my criticism. She has done a tremendous job of assisting our efforts in the Glades community and affordable housing, and I appreciate her leadership on those issues."
She added that Baker has strongly supported the Office of Legislative Affairs, where McKinlay worked as a staff member before her election as commissioner.
"It's been a pleasure to work with you for the [past] two years, and I hope that I have the pleasure of working with you for the next five years," said McKinlay, who made a motion to approve the contract, which carried 6-0 with Commissioner Dave Kerner absent.
In her list of accomplishments, Baker credited county staff for their support in her first two years, where she:
• Created a partnership with the county, school board and municipalities to support placement of the infrastructure sales tax on the November 2016 ballot, which was approved by 57 percent of the voters.
• Created a steering committee to develop a training and recruitment plan to reach out to underemployed and unemployed county residents to employ them through sales tax projects.
• Reviewed the procurement process to be inclusive of all businesses.
• Developed a report with recommendations related to the opioid crisis with funding to allow expansion of treatment, prevention and response programs.
• Filled four key deputy and assistant administrator positions.
• Scheduled a housing summit for May 31 to address the need for workforce housing in the county.
• Collaborated with the Palm Beach County Sheriff's Office and the U.S. Secret Service on protection of the president and residents to minimize the impact of road closures, and worked with the film commissioner on the permitting of out-of-county media during presidential visits.
• Continued to work with the Secret Service and Lantana Airport staff to minimize the negative fiscal impact to that airport during the president's visits to Palm Beach County.
ABOVE: County Administrator Verdenia Baker.