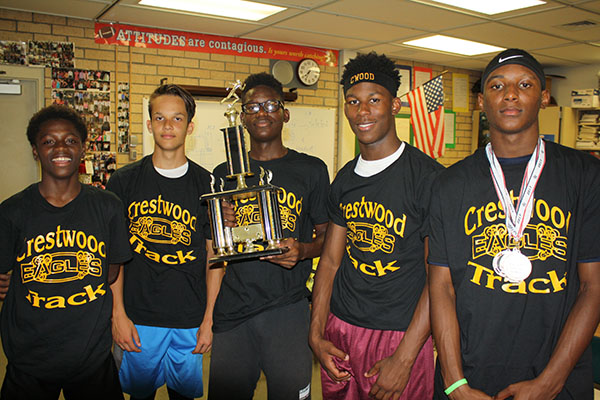 The Crestwood Middle Schools boys track team continued their winning ways and defended the school's Western Regional title recently at Seminole Ridge High School. The Eagles took the team title outscoring the nearest competitor by 23 points.
Coach Marque Drummond knew his team had talent but lacked depth. "We had to do everything right to come out with a win," he said.
The team did just that by placing a qualifier into next week's county championship meet in every event but one.
David Powell initiated the team's victory by capturing the long jump. He was also a part of the qualifying 400-meter relay team with teammates Jacob Acosta, Justin Saunders and Jahiem Gayle.
Powell was also a part of the winning 1,600-meter relay team, along with Justin Saunders, David Powell, Aaron Jarrett and Vincent Lecounte.
The 800-meter medley relay was won by Crestwood with the team of DeJuan Tolbert, Jahiem Gayle, Justin Saunders and Geoffrey McKelton.
Justin Saunders qualified in the high jump. David Powell snuck in and secured a spot in the long jump. Aaron Jarret qualified in the one mile. Jahiem Jackson and Ahmad Haston qualified in the 800-meter run.
Another major competitor was Jaydon Hood, who cleaned up in the sprint races. He qualified in all of his races, which were the 100 meter, the 200 meter and winning the 400 meter. Teammate Vincent Lecounte also secured a spot in the 400 meter.
Drummond was proud of his team. "A lot of hard work, preparation and dedication went into this season," he said. "I only had two returning members to the team, so I had to start from scratch and rebuild a team in a short space of time, but I enjoyed it. I am extremely pleased with the team."
The team will compete next week for the county championship at Park Vista High School.
ABOVE: (L-R) Jahiem Jackson, Jacob Acosta, David Powell, Jayden Hood and Justin Saunders.