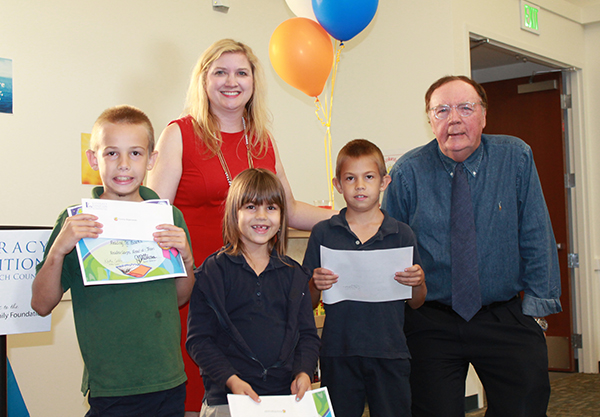 Five students from Binks Forest Elementary School, along with a media specialist from the school, have been recognized by author James Patterson and the Literacy Coalition of Palm Beach County for their participation in the 2017 ReaderCorps campaign.
Siblings Erica (first grade), Jack (second grade) and Tommy Bojanowski (fifth grade) all won top honors in their grade level for reading the most books, as did Binks Forest kindergartner Steven Webb. Fifth-grader Wandaya Pearsall was recognized for reading the most pages — 23,627 — in her category.
Webb read 59 books. He was also recognized for participating in the ReaderCorps read-a-thon. Webb got sponsors for his reading to raise funds to help other children learn to read and to have books in their homes.
Erica Bojanowski read 42 books, while Jack Bojanowski read 37 books and Tommy Bojanowski read 70 books. Wandaya Pearsall, meanwhile, was honored for reading 23,627 pages.
Media Specialist Caroline Epstein was honored as an adult ambassador for heading up the ReaderCorps effort at Binks Forest Elementary School.
The students received prizes and gift cards at the Literacy Coalition's ReaderCorps finale April 26. Author James Patterson, whose youth series are huge hits with young readers, attended the finale and encouraged the students to keep reading.
The coalition kicked off the ReaderCorps initiative during Florida Literacy Week as a way to provide meaningful service opportunities for children and teens that make them excited about reading while supporting literacy in Palm Beach County.
Through ReaderCorps, youth earn prizes and recognition for reading and promoting the value of literacy.
ABOVE: Tommy, Erica and Jack Bojanowski hold their awards, joined by Kristin Calder and author James Patterson.