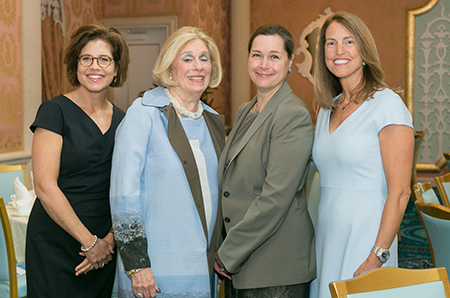 Leadership at the Jewish Women's Foundation of the Greater Palm Beaches (JWF) recently announced its 2017 grant awards. The nonprofit grant making and advocacy organization, which focuses specifically on the needs of women and girls, awarded more than $400,000 to 22 organizations, including local nonprofits.
New this year was the allocation of $15,500 per year for two years to the Lord's Place for its GROW initiative, which stands for "Gender Responsive Opportunities for Women." The grant will allow the Lord's Place to integrate gender responsive tools, strategies and techniques into their service delivery model on an agency-wide level.
"Support for our mission is continuing to grow, which means we continue to expand our impact on local, national and international levels," JWF CEO Tami Baldinger said. "This year, we awarded more than $400,000 for innovative solutions to issues impacting women and girls all over the globe — including right here in our backyard. I am especially pleased to support a new grantee partner, the Lord's Place, which recognizes that there are unique challenges facing homeless women. We know that when women and girls are supported, the entire community benefits."
Other grants went to Families First of Palm Beach County, the Healthy Mothers/Healthy Babies Coalition and the Pace Center for Girls of Palm Beach County, as well as a variety of national and international organizations.
For more information, visit www.jwfpalmbeach.org or call (561) 275-2200.
ABOVE: JWF Chair Lisa Schreier, Imagine the Possibilities Luncheon Chair Paula Lustbader, Martina Vandenberg of the Human Trafficking Pro Bono Legal Center and JWF CEO Tami Baldinger.