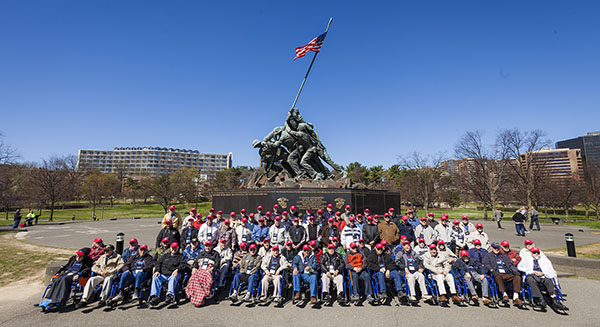 Two area airports will see a flurry of red, white and blue activity as two local Honor Flight hubs fly to Washington, D.C., on Saturday, May 20.
Southeast Florida Honor Flight, based in Stuart and serving Indian River to Palm Beach County, will be flying 18 World War II veterans and 64 Korean War veterans out of Palm Beach International Airport. South Florida Honor Flight, based in Fort Lauderdale and serving Broward and Miami-Dade counties, will fly local veterans out of Miami International Airport. Both Honor Flight hubs will take their respective veterans on the trip of a lifetime to Washington for the day to visit the memorials built to honor their service and sacrifices.
Southeast Florida Honor Flight's trip is the second of four regularly scheduled flights per year and as always, begins early in the morning with veterans and guardians arriving at PBI about 4 a.m. After checking in and boarding the chartered American Airlines Airbus 321, the flight arrives at Reagan National Airport to a welcoming crowd. With a police escort throughout the day, four motor coaches will transport the group to visit the U.S. Marine Memorial (Iwo Jima), Arlington National Cemetery for the Changing of the Guard Ceremony, the World War II Memorial and the Korean War Memorial.
The May 20 Southeast Florida Honor Flight will fly veterans in the following numbers by service branch: Air Force/Army Air Corps (12), Army (45), Coast Guard (3), Marine Corps (3), Merchant Marines (1) and Navy (18). Every veteran Southeast Florida Honor Flight takes to Washington is celebrated as an integral part of military and American history, as men and women who offered up their time and lives in service to the nation.
Every job is important, contributing to the success of the overall mission. These particular veterans served at home and overseas in various capacities, including aviator, cannoneer, code breaker, draftsman/designer, radar builder, combat medic, machine gunner, ship commander, torpedo man, rifleman, aerial radio operator, C-47 maintenance, B-26 turret gunner, flight engineer, hospital corpsman and more. They served wherever their mission commanded, with many participating in battles such as the Battle of the Bulge, Anzio Beach, Iwo Jima, Okinawa, Leyte, Luzon, Heartbreak Ridge, Punch Bowl and Outpost Harry.
In Honor Flight tradition, the public is invited and encouraged to attend "Operation Homecoming" at PBI the evening of May 20 to welcome home the veterans from their day of honor.
Operation Homecoming is always an emotional event for both the veterans and the crowd. People from the local community, including members of the military, community and civic groups, family and friends, gather in the airport to await the veterans' arrival to give them a true welcome home, a greeting that most never received years ago. Between cheering well-wishers, emotional family and friends and thankful citizens, the veterans receive hundreds of grateful handshakes, topping off a day that most veterans say is one of the best days of their lives.
Signs of thanks, flags, cheers and handshakes are encouraged. Operation Homecoming takes place at PBI, Level 2, Concourse A/B. The Honor Flight will arrive at 7:20 p.m. Early arrival is recommended. For more information on Operation Homecoming, call (855) 359-2838.
As no accessible official veteran database exists with the federal government, Southeast Florida Honor Flight relies on word of mouth, public education via presentations and civic/veteran groups to find WWII and Korean War veterans to sign up for an Honor Flight. If you are, or if you know of a WWII or Korean War veteran who would like to take an Honor Flight, and has not already done so, either call (855) FLYAVET or fill out the veteran application online at www.honorflightsefl.org. Southeast Florida Honor Flight is now taking veteran applications from Vietnam veterans, who will soon be the next group of veterans to be honored.
Every veteran is assigned a guardian as an escort for the day. It is an honorable and life-changing experience to act as guardian for a veteran. Southeast Florida Honor Flight is always taking applications for guardians for four scheduled flights per year. For those interested, visit www.honorflightsefl.org and complete the online guardian application.
Southeast Florida Honor Flight, along with the 133 other hubs in 46 states, is part of the nationwide Honor Flight Network, dedicated to flying America's veterans to their respective memorials in Washington, free of charge to the veteran. With America's WWII and Korean War veterans now in their later years of life, Honor Flight is truly in a race against time to honor these veterans by bringing them to see their memorials, especially the WWII memorial, which was not completed until 2004. Top priority continues to be given to WWII veterans and terminal veterans of any war.
The next scheduled trips for Southeast Florida Honor Flight in 2017 are Sept. 23 and Oct. 28.
ABOVE: Local veterans at the U.S. Marine Memorial on the April 8, 2017 Honor Flight. Photos courtesy Phil Galdys Photography