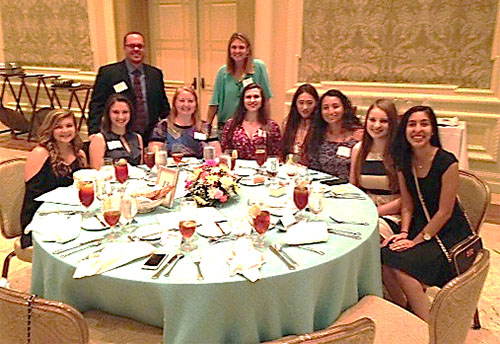 The Scholastic Achievement Foundation of Palm Beach County recognized the top seven seniors of the Class of 2017 countywide at its annual student recognition dinner April 5. Among the Hawk attendees was Kristi Kemper, who was awarded a $1,000 scholarship from United Healthcare.
SRHS Students Elect Reps — Congratulations to the 2017-18 Student Government Association class representatives: Class of 2018 (seniors) Brooke Champagne, Christina DiBello and Nicole Kuryel; Class of 2019 (juniors) Ahria Bass, Morgan Doran and Jerry Jerome; and Class of 2020 (sophomores) Collin Berryhill, Isabella Martinez and Sabrina Smith.
Eight Track & Field Athletes Advance to State — Following the Class 4A Region 3 high school track & field championships on April 27, SRHS is proud to have eight student athletes representing the school at the state championships. The attendees will be:
Girls team: 800-meter run, Coral Carnicella; and high jump, Morgan Shortridge.
Boys team: 400-meter relay, Malik Black, Stefano Napolitano, Aaron Pringle and Xavier Selby; 300-meter hurdles, Kailen Romer; and triple jump, Zachary Kameka and Kailen Romer.
Students of the Week — The Students of the Week program recognizes students, nominated by staff, for their academic excellence, behavior and assistance with keeping the campus positive. Congratulations to the Students of the Week for May 1-5: Amanda Heermance (grade 9), Rocco Abisui (grade 10), Victoria Martinez (grade 11) and Ben Stanisclasse (grade 12).
ABOVE: SRHS Principal Dr. James Campbell and Assistant Principal Elizabeth Boutet (standing) at the Scholastic Achievement Foundation event with Kristi Kemper, Jessica Hammett, school counseling coordinator Sandy West, Rowan Pelfrey, Chunxia Tian, Angelica Coelho, Alyssa Pace and Jasmin Tarakmi.