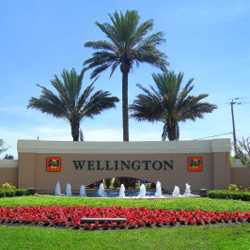 Wellington's Senior Advisory Committee and Wellington's Education Committee held a joint workshop Tuesday to initiate a new student mentoring program.
Wellington Community Services Director Paulette Edwards said student mentoring is one of several options available to assist local schools.
"We have 11 district schools in Wellington," Edwards said. "We have a number of students who need support. The Senior Advisory Committee has stated that they would like to know what opportunities are available to them to support our students, and the Education Committee is always looking for opportunities to assist our students, so this evening, we're going to discuss a couple of different options."
Education Committee Member Shelly Albright said the committee has discussed mentoring programs for all the schools, starting with the elementary schools.
The idea got a bump when she met Senior Advisory Committee Member Veronica McCue.
"I was so fortunate when Veronica decided that she would like to be a part of this process, and even more fortunate because she has already created this type of program before," Albright said.
Albright added that she, McCue and other committee members, with help from Councilwoman Tanya Siskind, have been working on the program.
"The program will be called SAM, which stands for Self-Advocacy in Mentoring.
McCue said SAM was created in New York for private special-needs schools.
"The students took a survey, and we discovered that the students needed help not only with academics, but also with personal life issues, and we created SAM," she said. "The purpose of SAM was to have the students be able to voice their needs and have their needs met by an adult specifically designed to help them."
SAM's mission was to "create an environment that will facilitate learning, foster individual growth and independence, and model the attitudes and skills necessary for academic success and lifelong achievement."
"We wanted every student to have an adult mentor who would be actively committed to offer support and guidance in personal, academic and transitional pursuits," McCue said. "The program is very easily replicated for the needs of specific schools."
Albright said the Education Committee has surveyed some of the elementary schools and found their needs to be different.
"We really want to create a program that can be applicable in any situation, and then those schools, in turn, could utilize the parts that are good for them, and set aside the stuff that maybe doesn't work for them," she said. "However, we want to facilitate the volunteers, so that's where we are really going to have a major role."
The committee has created a needs assessment survey to be given to all the schools to find out what their specific needs are, as well as a questionnaire asking volunteers what their skill sets are, and informing them of what SAM's needs are.
Albright said they have set a timeline for what they want to do.
"We are certainly looking for more people to sit on this committee and help advocate for us and for the students, and help us get the word out."
She said she would like the needs assessment forms returned from principals and guidance counselors by May 22, and they will start the collation and dissemination of information in June, and develop procedure and policy manuals, with presentations at the Senior Advisory Committee meetings about their progress.
"Kiwanis has indicated it's interested in helping us," Albright said. "We want to make sure that the principals are fully on board."
Albright said she would like to start the program in October, and was looking for the Senior Advisory Committee to reach out to those who might want to participate in the mentoring program.
"We know that you want to get involved in different projects and help us with the children, so we're hoping that you'll help us promote it and seek volunteers," she said.
Albright asked if they could start with 10 volunteers at each elementary school, which would require a total of 60.
Members decided to hold another joint meeting on Tuesday, Aug. 15, with the Education Advisory Committee meeting at 5 p.m. and the joint committee meeting at 6 p.m.