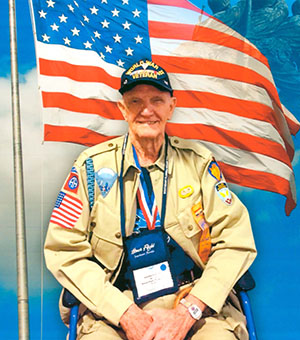 World War II veteran Hazen Kuskie of Royal Palm Beach died April 27 at age 91. The community is invited to a celebration of his life on Friday, May 12 from 8 to 10 a.m. at Hilary's Restaurant.
Kuskie was a former engineer on the Union Railroad, a devoted husband of 68 years and the father of four children.
During World War II, Kuskie was a U.S. Army paratrooper. Born in Pennsylvania, he volunteered to join the army when the war broke out in Europe. He was chosen to be a member of the Army paratroopers, soon finding himself in Europe participating in a history-making jump over Norway with the goal of stopping Germany from developing a heavy water plant that was necessary to produce an atomic bomb. The raid was a success and gave the United States time to build its own atomic bomb.
Kuskie and his paratrooper group jumped out of airplanes at 500 feet in enemy territory. He participated in jumps over France and was honored, along with other veterans, in New York City's "Welcome Home" parade in 1945, and again in 1995. He participated in an Honor Flight visit to Washington, D.C., in 2016, and in 2015 helped pick a charity for the Great Charity Challenge during Wellington's Winterfest. That event was particularly exciting for him because paratroopers jumped from a plane and landed in the middle of the arena.
As a resident of Royal Palm Beach for the past decade, he shared his wartime experiences with the second-grade class at the Ideal school in Royal Palm Beach. He talked to them about the $50 a month he made for joining the paratroopers during the war and how he had to jump out of planes.
After leaving the service, Kuskie joined the railroad, became an engineer and worked there for 40 years in Pennsylvania. At his home in Somerset, Penn., he served as a council member and worked with the VFW to organize a color guard charged with participating in the funerals of other veterans. This was the achievement for which he was most proud.
Kuskie's smiling face and wonderful sense of humor will be missed by all who knew him. Family, friends and the public are invited to the celebration of his life on Friday, May 12. Hilary's Restaurant is located in the Royal Plaza at 630 Royal Palm Beach Blvd., Suite 2, in Royal Palm Beach.