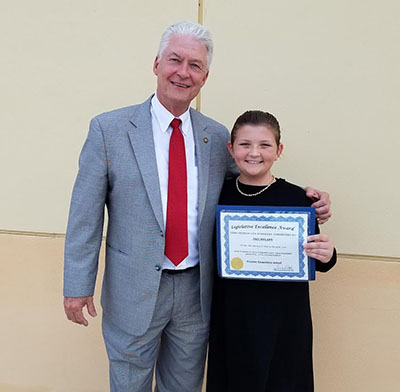 Jaci Dulany, a fifth-grade student at Frontier Elementary School, was awarded the Legislative Excellence Award for the 2016-17 school year on Friday, June 2 from State Rep. Rick Roth (R-District 85).
"It is with a great deal of pleasure that I take this opportunity to honor you with the Legislative Excellence Award," Roth said. "This award is presented to you for portraying excellence in leadership, service and citizenship. I commend you on your many achievements at Frontier Elementary School and within your community. Your hard work and dedication does not go unnoticed. You can be certain that the entire community is proud of your accomplishments and shares in the joy in this appropriate recognition."
Principal Susan Groth agreed with those sentiments and thanked Dulany for her service to Frontier Elementary and to the community at Frontier's Moving On Ceremony. Dulany plans to continue serving her community by participating in service projects helping others, and also plans on taking Roth up on his offer to allow her to shadow him for a day in Tallahassee.
ABOVE: State Rep. Rick Roth with Jaci Dulany.