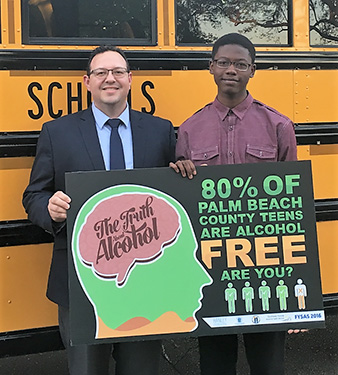 The Hanley Foundation, a community leader in substance abuse prevention programming, awarded a $1,000 scholarship to Kervin Noel, a senior at South Tech Academy charter school in Boynton Beach, for winning one of two first-place awards in the county's seventh annual Alcohol Prevention Poster Contest.
The theme for this year's contest, held by the Palm Beach County Substance Awareness Coalition, in partnership with the School District of Palm Beach County, Florida Students Against Drunk Driving (SADD), Florida Mothers Against Drunk Driving (MADD) and sponsored by the Hanley Foundation, the Judith Carreras Scholarship, the Palm Beach County Sheriff's Office, the Rotary Club of Wellington and the South Florida Fairgrounds, was "Your Future is Bright with Alcohol Out of Sight."
Noel created a colorful green and orange poster titled "The Truth About Alcohol," which featured an important statistic about alcohol use among teens and asked a question: "80 percent of Palm Beach County teens are alcohol free. Are you?" His poster will be displayed inside all 900 of the school district's buses and will also be displayed in schools.
"Kervin's poster used clear, concise data to show his fellow students that despite what they might perceive, most of their friends aren't using alcohol, and they can feel good about not engaging in underage alcohol use, as well," said Ryan Wertepny, director of prevention for Hanley Foundation. "We felt Kervin's poster would grab bus-riders' attention with its bold graphics and colors, but then really drive home the truth about alcohol use."
Wertepny noted that one of Hanley Foundation's key prevention programs, the Alcohol Literacy Challenge, reflects Noel's poster message and is offered free to schools, churches and youth groups. "Prevention programming reaching school-age children is a successful strategy to keep kids away from drugs and alcohol," he said. "Children and teens who begin drinking before age 15 are four times more likely to become alcohol addicted than those who do not drink before age 21. But the days of 'just say no' have evolved. Hanley Foundation prevention teams are on the front lines to effectively teach students both the real, physical effects of consuming alcohol and other substances, as well as the social and emotional effects kids think happen when they drink or use."
For more information about the Hanley Foundation, visit www.hanleyfoundation.org.
ABOVE: Hanley Foundation Director of Prevention Ryan Wertepny with bus poster winner Kervin Noel.