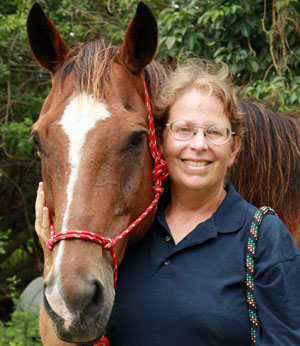 Tales From The Trails
It seems as if they've been there forever, though it has only been 12 years. Yet, in those dozen years, Chris Burwell and her family at the Silver Spur Equestrian Emporium have impacted the lives of countless equestrians in our community.
The consignment shop started out small, located in the Royal Palm Beach Business Park at 160 Business Park Way, Suite 2, about a mile south of Okeechobee Blvd. off State Road 7. They carried a little of everything for both horse and rider: show clothes, saddles, bits, bridles, boots, hats, helmets, saddle pads and equipment of every make and description, both English and western.
After a few years, they doubled the store, moving into the next bay, making it even more interesting to wander about and see what you could find. There were all sorts of interesting little items and antiques. Horse books, models, knickknacks, jewelry — treasures you sometimes had to look close to find. But then, sales dwindled, and they shrank back to the original space.
A lovely stained-glass picture of a hawk I found toward the back one day hangs in my house, and a small china chicken sits on a bookcase, feet dangling. There's also a miniature horse and carriage, bridles, saddle pads and a saddle, which I bought some years ago because it perfectly fit my mutton-withered mare. "Take it home, try it out, make sure it fits you and the horse both," Chris had told me, and that's what I'd done. It did fit us both, a used old Stubben dressage saddle that's still going strong. Now, all of these things take on extra meaning, because the Silver Spur will close its doors for good on July 31.
Chris and her family are much more than just shop owners. They've been an integral part of our horse community. They helped me sell a horse, and helped others find the perfect first pony. For a while, they brought their trailer to local horse shows, offering great deals on stuff you needed or simply wanted.
"My heart is broken, absolutely broken that they're closing," said Kim Krogmann-Breier, owner of La Petite Cheval in Loxahatchee Groves. "I wish they could open somewhere else. I always sent all of my clients there, especially kids just starting out in showing, knowing they'd find just what they needed at affordable prices."
The store also helped Kim out personally.
"Chris outfitted my son, Daniel, when he was three and starting out in leadline classes," she recalled. "I brought him there. Chris took one look at him and pulled the perfect outfit right off the rack. That's not easy to do, fit a little boy like that, but she has that knack, and she knows her stock."
It was the same story with those Kim sent there.
"I could send anyone there and they'd come out looking amazing at a great, family-friendly price," Kim said. "And then, of course, as the kids grew older or decided to switch riding disciplines, they simply brought back what they'd gotten and traded it in on newer stuff. Even kids who didn't show got their boots and helmets there. And everyone was always treated like family. I never heard anyone say anything negative about them. At a lot of the smaller, local shows, you'd see many kids wearing and riding in things they'd gotten from Chris."
It wasn't just used stuff either.
"They carried new stuff, too, and if they didn't have exactly what you needed, they ordered it for you, all reasonably priced," Kim said. "They were a great, affordable alternative to the bigger, more expensive shops. I'm so sad to see them go. They filled a special, important spot in our community."
Unfortunately, what with online sales and other competition, the Silver Spur can't make enough to keep going. Chris is sad, but resigned. The time has come to move on. Everything in the shop is on sale, and she'll donate anything that's left over to the Vinceremos Therapeutic Riding Center or Horses Healing Hearts. The shop is open Wednesday through Sunday, 10 a.m. to 5 p.m.
Chris posted the following letter on the door:
Please accept the following as my "thank you" for allowing me to serve the equestrian community in the way that I know best. It has been an awesome journey in helping so many as best I've known how, providing an inexpensive solution to so many of your riding needs.
Over the last many years, you've allowed me to serve in dressing you, your children, and supplying your horse needs as inexpensively as I knew how. With the progression of local competition in the marketplace and the availability of products through the Internet, I've decided to close the business. It's because of your support that I've also been so blessed to donate to many community organizations, as my heart is to help those less fortunate.
I will be closing the Silver Spur the end of July. It has been an awesome ride and an honor growing so close to so many of you. I have loved helping you all and thank you for the privilege of knowing you over the many years.
I will treasure the many memories and thank you for the opportunity to serve you, but most of all, I want to let you know that even though I'm not going to remain formally in business, if asked, I will always give you the best advice I can to help you be successful in all your future equestrian endeavors.
With love, Christina Burwell
Chris asks anyone with anything still on consignment in the shop to stop by and pick it up as soon as possible. Call the store at (561) 798-6651 for more info. You can also leave comments on the store's Facebook page at www.facebook.com/SilverSpurEquestrianEmporium.