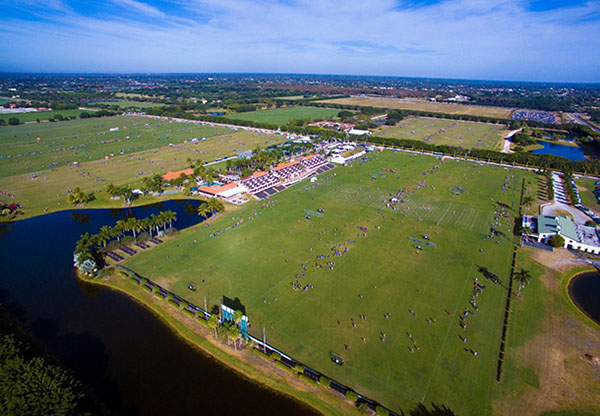 The Florida Sports Foundation presented awards last month to recognize Florida communities and sports commissions for their efforts to cultivate sports tourism in Florida. The awards were presented at the annual Florida Sports Summit held May 24-26, co-hosted by the Palm Beach County Sports Commission at the Jupiter Beach Resort. The International Polo Club Palm Beach, located in Wellington, was selected as the Large Market Sports Venue of the Year.
"The Palm Beach County Sports Commission is honored that the Florida Sports Foundation and our peers would select one of our premier sports facilities in the Palm Beaches, the International Polo Club, as Large Market Venue of the Year," said George Linley, executive director of Palm Beach County Sports Commission. "The International Polo Club is one of the dynamic sports facilities in Florida and is home to world-class polo and a selection of the nation's largest amateur sports tournaments."
IPC offers a collection of nine polo fields on 248 acres, as well a main grandstand, croquet facility, meeting and breakout rooms, 7,000-square-feet of indoor usable floor space, a private health club, a pool, tennis courts and sufficient parking options. IPC is the premier polo destination in the world, hosting the most prestigious polo tournaments in the United States. The facility has proven to be an ideal site for soccer, lacrosse, field hockey, rugby, and a variety of other sports.
Apart from polo, IPC is one of the most versatile and flexible sports venues in the United States. The PBC Sports Commission has utilized the venue to host some of the largest sports events in the nation, including the American Youth Soccer Organization National Games, the National Hockey Festival (USA Field Hockey), Florida United Lacrosse Cup Series Palm Beach Blast and the Florida Draw Lacrosse Classic. These four events, along with the 2016 polo season, generated almost $38 million in visitor spending and 34,926 room nights for Palm Beach County's hospitality industry last year.
"We are honored to accept the Venue of the Year Award presented at the Florida Sports Foundation's Sports Summit on behalf of the International Polo Club Palm Beach. Our partnership feels that IPC is a versatile venue that boasts the ability to not only showcase the highest levels of international and national polo competition, but also provide a platform of large mixed-use space to facilitate other popular field sports," IPC CEO Mark Bellissimo said. "This past year, we utilized various resources to help re-develop and re-energize the facility and firmly believe that we will only continue to expand the impact of IPC, from a broad sports tourism perspective, on many different levels in the future."
ABOVE: An aerial view of the International Polo Club Palm Beach.