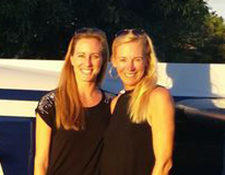 Ailsa Cutting, a resident of the Aero Club in Wellington and founder of the Wellington Flying Club, will take to the skies from June 20 to 23 in the 40th Air Race Classic (ARC), the oldest airplane race of its kind in the United States. She will be one of more than 118 women pilots from across the country and around the world who will sprint from Frederick, Md., to Santa Fe, N.M., this month.
Cutting and her co-pilot, Paige Attaway of West Palm Beach, will compete against 54 teams, flying the more than 2,600-mile course. They will be flying N1CS, a Navion that her grandfather Crocker Snow purchased new in 1946 and has remained in the family ever since.
Snow was a pioneer in aviation, who lived its history from the biplane era through World War II and into the jet age. Amelia Earhart flew with him before she was famous, and his first sport flying license was signed by Orville Wright.
Snow's first solo flight took place in 1926 on a cinder-covered airstrip that was smoothed by a pair of draft horses pulling a wooden drag, and he continued to fly for 70 years in 160 makes and models from World War I Jennies to B-29s. He flew N1CS for more than 52 years and 900,000 miles.
The ARC traces its roots to the 1929 Women's Air Derby, also known as the Powder Puff Derby, in which Amelia Earhart and 19 other female pilots raced from Santa Monica, Calif., to Cleveland, Ohio, at a time when women pilots were banned from competing against men. That competition marked the beginning of women's air racing in the United States. Today, the ARC is the epicenter of women's air racing, the ultimate test of piloting skill and aviation decision-making for female pilots. The contest draws competitors of all ages and all walks of life, from college students to professional airline pilots to military veterans to teachers, writers, doctors and businesswomen. For all, it is a chance to engage in fierce competition while sharing their love of flying.
This year's racers hail from 35 states and six foreign countries: Cyprus, Trinidad and Tobago, the United Kingdom, France, New Zealand and Venezuela. This year counts several aviation celebrities among the racers: U.S. national aerobatics champion Debby Rihn-Harvey and Ariel Tweto, star of the Discovery Channel show Flying Wild Alaska.
This year's course will take racers through 14 states, from the foothills of the Blue Ridge Mountains to the far northern reaches of the Continental United States to the high desert of New Mexico. Teams will depart beginning at 8 a.m. June 20 from Frederick Municipal Airport, taking off 30 seconds apart. From there, the field will spread out as faster planes move to the head of the pack.
At each of the eight intermediate stops, teams will execute high-speed fly-bys over a timing line as they race against the clock. Faster planes may cover the course in only two days; slower teams may not arrive at the Terminus, Santa Fe Municipal Airport, until moments before the arrival deadline at 5 p.m. on June 23.
The 54 teams will have four days to complete the course, flying normally aspirated, piston-powered airplanes in visual flight conditions during daylight hours. Pilots must have at least 500 hours as pilot-in-command or a current instrument rating, and co-pilots must have at least 100 hours as pilot-in-command.
Prizes for the ARC are valued at more than $16,500 and include medallions, trophies and cash awards.
ABOVE: Paige Attaway and Ailsa Cutting will compete this month in the Air Race Classic.