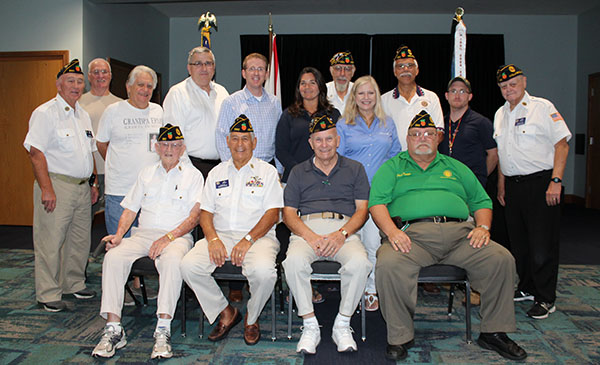 The Village of Wellington and the American Legion Chris Reyka Memorial Wellington Post 390 hosted a Veterans Open House at the Wellington Community Center on Wednesday, June 7.
Weather kept some planned vendors from attending the open house, but it did not keep those organizations present from having their messages heard by an appreciative audience. The evening was designed to educate the public about local programs for military veterans.
"I want to thank you all for being here and what you do to serve our veterans in the community," Mayor Anne Gerwig said in her welcoming remarks. "Thank you all for what you've done for this country, and thank you all for the services you provide for our heroes."
David Knapp led the pledge of allegiance. But first he saluted the flag in silence. Knapp was the first commander of Post 390.
"In case you're wondering, I'm very oriented to the American Legion way," Knapp said. "And as a past South Florida commander, you don't approach the American flag without giving it its proper due, in or out."
On Wednesday night, Knapp was representing Stand Down House in Lake Worth, a transition house for veterans who are recovering from drug or alcohol addiction, or suffering with PTSD. It is a facility that can house individual veterans for up to two years.
"They have to be dry, clean and sober in order to get in there," Knapp said. "Do they fall down? Every now and then, it happens. But we have over a 90 percent success ratio since we opened the facility."
Faith-Hope-Love-Charity Inc. is the corporate office for Stand Down House. One of its focuses is on veteran homelessness. Stand Down House is able to help veterans who are homeless or at risk of becoming homeless. Knapp clarified what that can mean.
"If you are living somewhere, even with a relative, your mother, father, whatever, and your name is not on that lease, and you're an adult, you're homeless," he said.
The Palm Beach Vet Center in Greenacres shared information about its services. "We deal with the invisible wounds. Therefore, we are not medical professionals," said Dr. Raul Diaz, director of Palm Beach Vet Center. "We don't prescribe. We help the veterans and their families adjust to being civilians after returning from war."
Edward Tague, an outreach specialist at the Greenacres location, said the center's message is "just walk in."
"You hear some of these things in the news and everything else about the VA and waiting in lines and waiting lists," Tague said. "We don't have that. You can walk in and see a counselor that day. If you're in that place, and you're ready then, you can come and see us."
Tague did say it is preferred that appointments are made, but still restated the "just walk in" motto.
Members of Project 425, the local Vietnam helicopter group, also spoke at the open house. Mike Carroll owns and restored the Huey helicopter that the veterans use as an educational tool in and around the community.
"I'm really proud to be associated with this bunch of guys, and share this veteran aircraft, a genuine war bird that has 2,000 hours of combat in Vietnam," Project 425 member Bill Jeczalik said. "I'm appreciative that Mike took it upon himself to obtain and restore this aircraft, and put a bunch of guys behind it who would take it to anybody who would invite us, no fee involved; that we would display it and preserve the memories of the aircrews that flew in Vietnam."
The South Florida National Cemetery in suburban Lake Worth had representatives present. The cemetery has a first-come, first-served policy, which most veterans are eligible for under the services provided at the cemetery.
"If you haven't visited the cemetery, go and visit the cemetery," Post Commander Allan Ziker said. "It is beyond beautiful. They did a quality job. I've been there several times for different ceremonies. It's wonderful to be down there."
Post 390 presented recent Wellington High School graduate Daniel Clein with its annual scholarship award toward a veterinarian degree that he will pursue.
All of the organizations that came to the open house had the same thing in common: They were all veterans helping veterans.
"The work that these organizations do is so important," Vice Mayor John McGovern said. "Thank you all for coming. We're happy to host here in this new facility, and hopefully this can build momentum here in the community."
ABOVE: Wellington Village Council members with American Legion Wellington Post 390 members at the Veterans Open House.