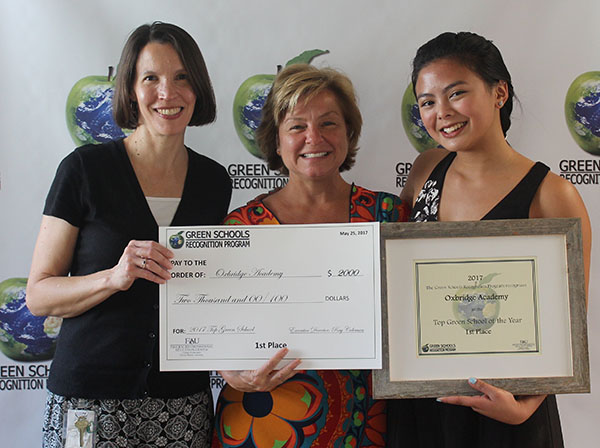 The Oxbridge Academy's environmentally friendly culture was recognized on Thursday, May 25, when the school received top honors at the Green School Award Program. The award was announced by Ray Coleman, executive director of Florida Atlantic University's Pine Jog Environmental Education Center.
The Green School Program is coordinated by the FAU Pine Jog Environmental Education Center and recognizes and encourages public and private schools to incorporate environmentally friendly policies and practices in their operations and curriculum.
Schools can be ranked as Schools of Excellence, Schools of Quality or Schools of Promise. Oxbridge has been recognized as a School of Excellence every year since opening in 2011.
To be recognized, schools must submit a six-page certification process every year that includes how "green" concepts are applied in school grounds enhancement, school sustainability, curriculum integration, community involvement, administration support and innovation. The top school is determined by the top scores received in each of these areas.
Out of all of the schools in Palm Beach and Martin counties that received a Green School certification, Oxbridge scored highest and won first place. The school was presented with a $2,000 check.
In 2013, Oxbridge won Most Innovative Curriculum for the research study students performed on the potential of a local brain cancer cluster. Science teacher Teresa Thornton has been leading the green charge at Oxbridge and hopes to use some of this year's winnings to purchase new recycling bins for the dining hall.
The Oxbridge Academy is a private college preparatory high school, serving grades 9 to 12. For more information, visit www.oapb.org or call (561) 972-9600.