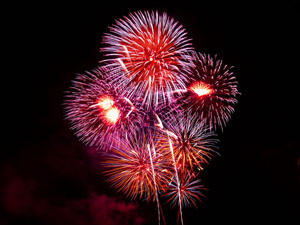 BY RANDA GRIFFIN
Wellington's annual Fourth of July celebration will return this year with even more fun activities and fireworks for the whole family.
"We pride ourselves on these hometown events — safe and traditional events that residents can plan for every year. There's something for every member of the family," Community Programs Manager Michelle Garvey said.
The celebration begins at noon on Tuesday, July 4 at the Wellington Aquatics Complex with a Patriotic Pool Party. Everyone is welcome to swim in the pool and participate in different aquatic games, contests and activities.
"The pool closes at 5 p.m., which will give everyone time to get over to Village Park for the activities there," said Garvey, noting that regular pool admission rates apply.
The rest of the day's activities begin at 6 p.m. at Village Park on Pierson Road.
A free shuttle service will provide transportation from the Mall at Wellington Green to the park from 5:15 p.m. until 10 p.m., after the fireworks show. The shuttle stop will be located at the bus stop outside of Nordstrom.
The celebration at Village Park provides something fun for the whole family. Traditional games such as sack races, hula-hoop competitions, pie-eating contests and an egg toss will go on throughout the night, as well as free bingo games.
There will also be numerous bounce houses, inflatable obstacle courses, games, a petting zoo, pony rides and face painting, sponsored by Promise Life Chapel.
Many of last year's family favorite games and activities are returning, with the addition of different bounce houses, which can be enjoyed by all age groups. "We have tiny bouncers for the littlest kids, all the way up to dual racing slides for the older ones," Garvey said.
The band Studio 54 will provide live music throughout the evening and more than 20 food trucks and local vendors will be selling food, drinks and ice cream. Vendor space is limited, so anyone interested in a vendor booth should call Garvey at (561) 791-4082 as soon as possible.
At 9:15 p.m., the popular Zambelli fireworks show is set to begin. Rain has threatened the show in the past, but Garvey said that every year, the village manages to pull off the fireworks show.
"The event is rain or shine. Every year we cross our fingers and hope the weather holds up, but it's still rain or shine," she said.
If the weather doesn't cooperate, games and some booths will be brought inside the park buildings for residents to enjoy.
Approximately 8,000 people are expected to turn out for the day, so Garvey emphasized the importance of getting to the park early and beating the traffic, since there's only one entrance to the park — or better yet, use the free shuttle service.
"Come early, bring your seat, bring your blanket, and just enjoy the evening so you're not stressed trying to find a spot at the last minute," she said.
This year's featured sponsor for the event is the Joe DiMaggio Children's Hospital.
The Fourth of July celebration is one of Wellington's signature events and requires the help of numerous people and organizations.
"We're proud of it, and we put a lot of work into it," Garvey said. "It takes a village to make it all come together."
Guest are asked not to bring pets or personal fireworks. For more information, call Garvey at (561) 791-4082 or visit www.wellingtonfl.gov.