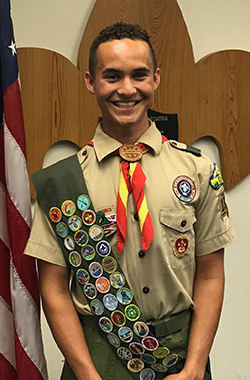 Dominick Ruiz, son of Trisha Walesky-Ruiz of Wellington and Luis Ruiz of Greenacres, received the Boy Scouts of America Eagle Scout rank on May 15 following a board of review.
Ruiz is a member of Troop 132 in Palm Beach Gardens and is a sophomore at Wellington High School, a member of the Wellington High School swim team and a member of the Wahoos of Wellington Swim Club.
His aspirations include completing high school and entering college for a career in marine science.
Ruiz is an avid SCUBA diver and enjoys taking underwater photographs. His Eagle Scout service project involved the collecting and growing of 6,000 mangroves, the coordination of mangrove planting at Osprey Park in West Palm Beach, and the donation of mangroves to his benefactor, Palm Beach County Environmental Resources Management, for use at Currie Park, the Jupiter Ridge Natural Area and Ibis Isles.
Ruiz is a third-generation Eagle Scout. His uncles, David Walesky (Eagle, 1992) from The Acreage and Daniel Walesky (Eagle, 1996) from Lake Worth, received their badges from Troop 199 at the Elks Lodge on Belvedere Road. Dominick's grandfather, Richard Walesky (Eagle, 1965) from Wellington, received his badge from Troop 92 in Cheshire, Conn.
ABOVE: Eagle Scout Dominick Ruiz