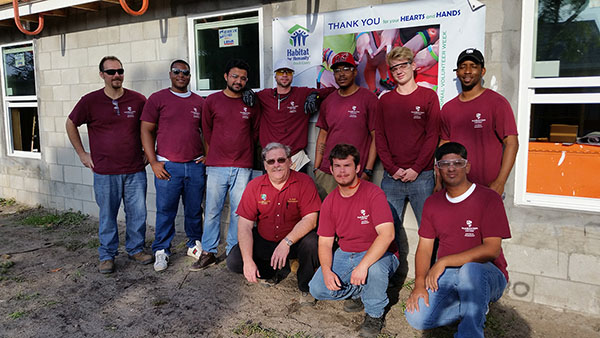 Eleven students in Palm Beach State College's residential and commercial electrician program will never forget the house on 18th Street in West Palm Beach.
They finished wiring the 1,245-square-foot home for Habitat for Humanity of Palm Beach County on Wednesday, May 24. Better yet, their work passed city inspection with flying colors.
Supervised by their instructor, master electrician Dan Neff, the students worked full-time for seven and a half days to complete the "rough in" stage for the home. They ran about 2,000 feet of cable, installed the electrical panel and did the wiring for the air conditioning system, water heater, laundry and kitchen appliances, TVs and phones, lighting and general use outlets.
"When they get out there and see how they have to specifically run the cables and all the rest, it's a different ball game," Neff said. "It opened up their eyes to the real world, beyond what the program's lab can offer. It was a brilliant experience for them."
While the students provided the labor, Carpenter Electric and K&M Electric Supply teamed up to donate the materials. Carpenter Electric also pulled the permit and provided a supervisor to ensure the work was done to code and ready for inspection.
These students graduate in July, but they hope the home will near completion soon, so that they can return and do the "trim work" of installing the outlets, switches and light fixtures. If not, another PBSC electrician class will finish the project.
Back at their Lake Worth campus classroom, the students shared their thoughts about being a part of building a new home for Habitat for Humanity of Palm Beach County.
"The best thing was being able to do everything ourselves," Hal Taitelbaum said. "Doing that physical labor, working those hours and seeing everything completed once you're done is a great feeling. It was an amazing experience."
"It definitely put a lot of things into perspective," Brieux Dash added. "Being able to work around other contractors made it easier to see and understand what needs to happen and what we need to look for in a real-life situation."
The students were grateful for the experience. "It gave us a new experience that we couldn't have in the classroom, and that was great," Nathaniel Oertle said.
Sanket Pednekar agreed. "It was really hot, but it was a great experience. It made me do more hard work and think more," Pednekar said.
Brandon Medwit expressed his take-away with an electrical metaphor. "I learned a lot on the site. You go in there, you plug your brain in, and your brain starts moving and sparking," he said. "Everything kind of just connected for the first time in my life."
Rick Seymour, president of Carpenter Electric and CSI Palm Beach, volunteers as a PBSC business partner, providing guidance and support for the college's trade and industry programs. As the sponsor of this class project, he wants the students to realize that volunteering should be an integral part of their professional lives.
"I hope the bigger message and the bigger lesson for these young electricians who are coming up through the program is that they see there are ways for them to immediately have impact and give back to the community," he said.
Kelvin Castillo, director of construction for Habitat for Humanity of Palm Beach County, knows full well the vital importance of the volunteers.
"This partnership is amazing," Castillo said, "because it brought together an institution like Palm Beach State College and a contractor, Carpenter Electric, who's willing to work in his community, to support us in building homes. The students actually met the homeowner who is going to be moving into this home. "So, they aren't just doing the electrical work in a house. They know who they're doing it for, and it's a family in need. The impact that they're having in the community is huge."