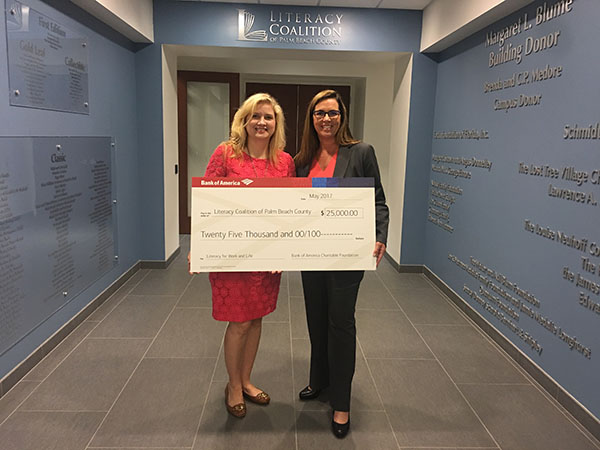 The Literacy Coalition of Palm Beach County has been named a recipient of the Bank of America Charitable Foundation's 2017 Workforce Development and Basic Needs Grant.
The Literacy Coalition's mission is to improve the quality of life in the community by promoting and achieving literacy. Bank of America's $25,000 grant will support the Literacy Coalition's adult students in family literacy programs to obtain the skills and guidance they need to obtain a family-sustaining job.
"Thanks to Bank of America's support through the Workforce Development and Basic Needs Grant, we are able to help families in our community achieve economic mobility," Literacy Coalition CEO Kristin Calder said. "We are honored to be a longtime partner with Bank of America and appreciate their desire to remain a concerned corporate citizen by supporting our community."
The grant is part of a $1 million collective investment the bank is making in South Florida to address the community's lack of access to basic human services and financial stability. These grants will help individuals and families address the issues facing their communities, as well as provide access to benefits and resources including food pantries, shelters and financial coaching.