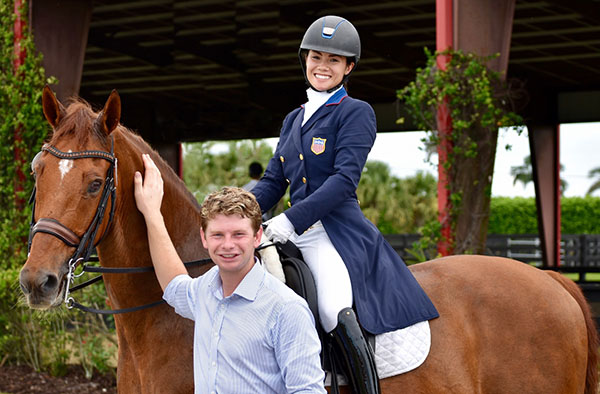 Rider Natalie Pai, 20, and her dressage trainer, Kevin Kohmann of Diamante Farms in Wellington, have much in common. They have both broken the industry norm to achieve impressive accomplishments in the sport they love at a young age.
Last month, Pai won the reserve championship in the Brentina Cup at the 2017 Dutta Corp. U.S. Dressage Festival of Champions in Gladstone, N.J., aboard Unlimited, a 16-year-old KWPN gelding that she is leasing from P.J. Rizvi and Peacock Ridge LLC. She also competed on Fritz San Tino, a 15-year-old Hanoverian gelding owned by her mother, Melanie Pai.
Natalie Pai is the youngest competitor in history to bring two horses to compete at the Festival of Champions, and the youngest to qualify for and compete a horse in the festival's Intermediate I division. Like his protégé, Kohmann started racking up success at a young age. He is the youngest in history to pass the Bereiter in Germany, at 18, and the youngest to earn the title of Master Bereiter and earn his German gold medal.
Kohmann said that he and fellow trainer Devon Kane, who owns Diamante Farms with her mother, Terri Kane, can easily relate to young, driven riders. After all, they were highly successful in the Under 25 division not so many years ago.
Kohmann and Kane also offer a variety of methods to teach their riders. "We use many teaching methods," Kohmann said. "We stick to classical methods, but we also acknowledge that all roads lead to Rome. That's how Devon and I train everyone — we understand that every horse and rider has a different learning style, and we try different approaches to achieve goals."
Pai, who has been serious about dressage for the past five years, has been working with Kohmann for four years. She followed him to Diamante Farms when he moved there three years ago.
"The best thing about Kevin is that he is such a good rider and a good coach," she said, adding that since she is a visual learner, it's helpful for her to watch him ride. "Sometimes, when I don't understand something, it's really important for the way I learn for someone to show me how to do it rather than tell me how to do it."
Pai said that her mother was probably even more excited than she was when she clinched the reserve championship at Gladstone. She doesn't plan to change trainers any time soon — although Kane recently gave Pai some lessons while Kohmann was competing, and she enjoyed her time working with Kane. Both Kane and Pai are petite, and she got some valuable tips on how to adjust her technique for her size.
"I think it was really helpful for me to train with someone who understands my body mechanisms," she said. "She helped me with technique, especially with my seat. She also said that rather than using your strength to take the outside rein, push him more into the outside rein. That was helpful, because I am smaller, so by pushing him into it, I don't have to use quite as much strength. I made a lot of improvements with her."
The Pai family keeps five horses at Diamante Farms in Wellington, and Natalie rides three of them. She keeps busy with her six-day-a-week riding schedule with Kohmann, while also attending Palm Beach Atlantic University, where she is majoring in business management.
"I think it's quite incredible what she has accomplished with Unlimited in the short amount of time she has been riding him," Kohmann said, explaining that Pai had only leased the gelding for five months before she had her major win at Gladstone. "Going from riding Prix St. Georges in Young Riders to the Grand Prix is a huge jump. She has learned a lot in a very short time."
Pai counts herself lucky that she has such a great support system. In fact, she had a fan club watching her at Gladstone, including Kohmann, her mother, father, aunt and groom Emilija Anderson, as well as friends watching through the live stream.
"It's really nice to be able to talk about dressage with my mom," Pai said. "I think that's really important. My mom can give a lot of pointers, and I think she enjoys it."
Melanie Pai said her main advice to her daughter is to do her best but to enjoy it. "I always tell her to smile and have fun," she said. "If it's not fun, why are we doing this? It has been fun to watch her growth in becoming a real, professional rider."
She credits Kohmann and the atmosphere at Diamante Farms for helping her daughter excel in dressage.
"I enjoy the Kanes," she said, adding that she has known the facility's owners from when they all lived in Texas years ago. "They run a top-notch, professional barn. It's a very calm, relaxed atmosphere. It's a great atmosphere to work in."
The younger Pai hopes to return to the November U.S. Dressage Finals in Kentucky and to compete in the Brentina Cup again. "I have five years left in the Under 25 division," she said. "And I'd like to do Young Riders again. NAJYRC is a great experience."
Her long-term goals include the Olympics, the World Equestrian Games and the Reem Acra FEI World Cup of Dressage. And through it all, she plans to stick with Kohmann and Diamante Farms.
"Devon and Kevin inspire me," she said. "To be able to watch Devon and Kevin excel in competition and in business from such a young age is amazing."