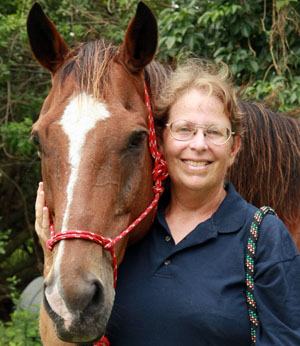 Tales From The Trails
Claudia Campbell knows what it's like to be a busy mom. When she is not working or raising her family, she is running Delmar Farm, a small lesson barn and boarding facility located at her home near Lion Country Safari. She also knows what busy moms are looking for. Which is why, once or twice a month, she offers Pony Camp.
"Pony Camp runs on Sundays from 10 a.m. to 1 p.m. and costs $60. It's geared for children ages 4 to 12 who are interested in horses," Claudia explained. "It's a fun introduction to riding and horsemanship, and a terrific way for parents to explore the horse world without a huge investment of time or money and see whether or not their children want to continue. It's also a fun activity for a Sunday morning."
Claudia is an experienced and knowledgeable equestrienne. In addition to riding for many years, she used to be a trainer at a Wellington show barn.
Nine bouncing, excited youngsters and assorted parents and grandparents attended the Pony Camp held on June 11, most rank beginners. Claudia welcomed them and gave an introductory talk, while Dunkin, a small gray donkey, wandered about.
After explaining the difference between ponies and young horses, Claudia demonstrated some important safety concerns: keeping feet away from potentially stamping hooves, the difference between a dog's wagging and a pony's stinging tail when aimed at flies, back legs that can kick if startled and teeth that can chomp fingers mistaken for treats. "And no running or yelling in the barn," she said, before organizing the excited youngsters. She had plenty of young volunteers to help as, two by two, the children gabbed brushes and currycombs and headed out to brush the ponies, who stood patiently in crossties.
Tony Brazzale of Wellington brought his daughter, Gwen, 7. "She has been to the farm before," he said. "I grew up around horses in Texas, and this is a nice way for her to become more familiar with horses. It's also a nice way for her to learn that there's a work ethic associated with having pets. It's not just get on and ride. Horses need a lot of care."
"I'm really excited and can't wait to ride," Gwen said. "Ronan is my favorite horse. He is big and fluffy and nice. I want to ride Ronan."
Ashley Grady of Loxahatchee and her 6-year-old daughter Lily also attended. It was their first time around horses. "I want to brush the horse and ride," Lily said.
"I like the fact that this is a one-time thing," Ashley said. "This is a good way to see if she likes being around horses before we go any further."
Elissa Grady, Ashley's sister, brought her 6-year-old son, Mason. "He has zero horse experience," she said. "This is trial run to see if he likes it and might like to do more in the future. Mason is very shy. This is a good way to help him get out of his comfort zone."
Mason admitted to feeling excited and nervous, but was very interested in brushing and riding the ponies.
Sydney Livesay, 15, was one of the teenage helpers supervising the grooming and tacking up. "I like helping the little kids and seeing them enjoy the experience," she said.
Another helper, Ariana Hoblin, agreed. "Watching the little kids is fun," she said. "I like passing on my knowledge. Claudia is a very good person. She treats the horses well and enjoys helping everyone."
Jen Taylor of Wellington rode as a teenager, but this was her daughter Grace's first time around horses. "Grace is 8, and I want to expose her to horses to see how much she likes them before making a larger commitment of time and money," Jen explained as she watched Grace brush a pony. "I hope she has a good time and learns that riding is more than just sitting on a pony. There is responsibility to the animal, along with the fun of riding. When I rode as a kid, I had to do a lot of work in exchange for riding — grooming horses, cleaning tack, everything. "
Children learn a lot of life lessons around horses, Jen said.
"I also like her being outside and involved with animals and other kids and away from electronic screens," she added. "I think Pony Camp is a great idea, and she is very excited to be here… We'll see what she thinks. I hope she likes it and wants to continue. I'd like to get back into horses, so we can ride together."
The ponies got brushed, and then everyone trooped into the tack room, emerging with saddles, girths, pads and bridles. The ponies got tacked up, the kids split into two groups, and helmets got handed out and fitted. The first group headed out to the ring to mount up while the second stayed behind to give mini Lucy a bubble bath.
Once the kids were mounted and their stirrups adjusted, they got basic instructions on holding the reins and how to ask the ponies to walk and stop. Then, led by the helpers and some with parents alongside, they walked around Claudia and practiced sitting up straight and pushing their heels down while playing a game of red light, green light. The session ended with everyone finger-painting two of the minis.
"I think they had fun," Claudia said. "Everyone was satisfied. Pony Camp is the perfect program for busy parents looking for a fun, different Sunday activity, especially for horse-crazy kids."
Claudia also runs pony birthday parties, a petting zoo, and can customize outings for small groups like Girl Scout troops or home-schoolers.
For more information, call (561) 315-9516 or visit www.facebook.com/delmarpony.