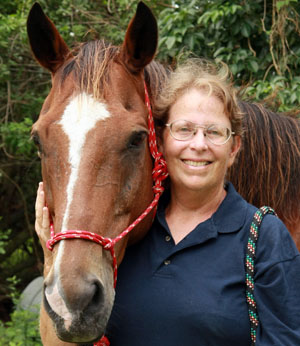 Tales From The Trails
Ashley Glica's life is one of contentment. She and fiancé Brandon Blazynski co-own ATG Equestrian, located at 2650 A Road in Loxahatchee Groves, where they rent half of a barn.
South Florida sure beats Ashley's original home in Buffalo, N.Y.
"My mom, Barbara, still runs a hunter/jumper barn up there," Ashley said. "I traded 20 feet of winter snows for scorching summers."
Ashley grew up riding and showing, following the circuit as a junior and amateur adult, while managing barns. Four years ago, she moved here permanently. She currently owns two horses.
"My niche is helping my clients realize their showing goals," she said. "We're geared toward WEF and the ESP circuit. We do rated shows rather than schooling shows. I customize my training program to fit each individual horse and rider."
Ashley enjoys following steps and structuring each lesson and overall training program. She cites the many George Morris lessons she took and clinics she attended while growing up, and bases her program on those invaluable experiences.
"I don't start young horses, but I enjoy bringing along green hunters," she said. "A good hunter prospect is 4 to 6 years old, has a kind eye, good conformation, a solid neck, a great front end, and clean, straight legs. Size doesn't matter as much as a long, low stride, and a balanced, elegant canter."
She prefers Dutch Warmbloods. "They tend to be sensible, cooperative and always willing to try their best," Ashley said. "There's no such thing as a perfect horse. You can't change bone structure. But a horse who does the best with what he's got is one that will go a long way."
For a jumper prospect, Ashley prefers Hanoverians.
"They definitely give more of an expression to their jump. They push off better. I look for ones who are 'allergic to wood' — the ones who avoid touching jump poles," she said. "In general, jumpers should have shorter backs, more spring to their jump and a more compact build. I look for 3- to 5-year-olds with balanced free jumps that stand between 16 and 16.3 hands. I don't usually look at anything under 16 hands, but there's always the exception. I have a client with a 15.3-hand Warmblood-Quarter Horse cross who'll jump anything."
Ashley believes in a lot of flatwork for bringing along both hunters and jumpers.
"In the show ring, you need a horse who easily collects or extends and keeps up the impulsion," she said. "Some horses just love to jump. They have the heart and ability, and how they're built doesn't matter to them at all."
She teaches both children and adults.
"I've got older adults doing Low Adult or Adult Cross rail classes, and 10-year-old children doing Low Pony classes," Ashley said. "Most own their own horses or ponies, but I do have a couple of school horses. I don't typically teach straight beginners. I prefer riders who already know how to ride and want to improve."
Ashley charges reasonable rates and is open to having riders trailer in for lessons. She makes an interesting distinction between teaching and coaching. Teaching involves demonstrating and explaining a skill; coaching means refining and improving it.
"I like to ride a client's horse and demonstrate a variety of ways to achieve goals," she said. "I give them different tools to use, ways to supple a horse; developing a feel without using a bracing hand. I stress a solid two-point and like posting without stirrups. I utilize a lot of gymnastic exercises using ground poles to teach balance. I don't do a lot of high jumps or courses at home, but instead work on lines and flatwork between fences, lengthening and shortening, adding or taking out strides."
The most common faults? Looking down, cutting corners and not counting strides.
"Flatwork is the basis and foundation of all jumping," Ashley said. "Rider and horse must be in sync, sharing the same rhythm. That's how you ride a course smoothly."
Robyn Brow brings her granddaughter, Sydney Ailes, to ride with Ashley.
"She has been riding with her for three years," Robyn said. "Sydney tried soccer and softball, but then she rode a pony, and that was it. She was only seven, but she found her passion. She is 10 now, and she sleeps, eats and lives to ride. We come three to four days a week."
Sydney rides her own pony, as well as one of Ashley's horses.
"I like that she has learned all aspects of horsemanship — feeding, grooming, mucking stalls — every aspect of caring for horses," Robyn said. "She understands the responsibility. And her riding! Oh my gosh. It's amazing what she does. She has no fear. She'll ride any horse. I absolutely trust Ashley and highly recommend her. It's the best decision you'll ever make in your life. Kids who ride with Ashley are grounded. She has so much knowledge, plus a great personality."
"She's fun," Sydney agreed. "I like how she acts. If I don't do something right, she tells me how to do it. I love jumping the best. It's lots of fun."
Ashley enjoys her time working with horses and riders.
"I love teaching and seeing the improvements come, the finished product of horse and rider communicating effectively," she said. "Whether they win a ribbon or not, if they've done their best, that's all you can ask."
For more information, visit www.facebook.com/ATGshowHorses215 or call (716) 359-0131.