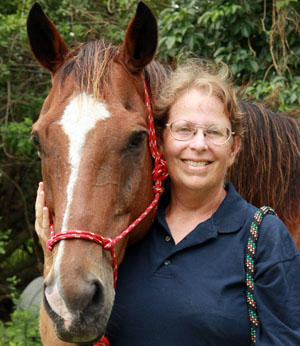 TAILS FROM THE TRAILS
Memory can be a bittersweet thing. Rain falling through sunshine. A stranger glimpsed who — for just a moment — could have been someone lost long ago. Chatting with Barbara Young was a little like that. Recollections brought smiles to her face even as her eyes brimmed with tears.
Barbara has lived in Loxahatchee — the Old Loxahatchee, as she insisted on calling it — for 21 years. She grew up near Philadelphia, where her father rescued two horses "bound for the glue factory." Barbara rode Skippy and Sam now and then, down to the end of the lane and back to the barn, but she wasn't really into either horses or riding. Not until she moved to Old Loxahatchee.
"I looked around, and everyone had horses," she said. "My next-door neighbor. My best friend. Everyone. I enjoyed visiting with the horses, petting them and giving them treats. I took lessons and learned to ride. I worked with Matt Marshall, a trainer who lived out here back then."
He helped her choose Sonora, a little bay Arabian mare.
"I looked at lots of horses, but Sonora…I loved the smell of her muzzle. I can't describe it," Barbara recalled. "A special smell, reminiscent of herbs and garlic, but not like either of them. Just this really special smell, and I knew I had to have her."
She bought Sonora, and then something happened. Barbara was up in Fort Pierce one January day in 2004, watching a combined driving event.
"I became obsessed," she recalled. "Driving! I had to do this. It became my passion. I never was a great rider, but driving — I was over the moon. Watching that show changed me. I had to find out all about it. I knew nothing, but I was determined to drive."
One month later, in February, Barbara attended a weekend driving clinic. A month later, she found a black miniature driving horse named Hobby. Not really knowing what she was doing, Barbara then bought a cart big enough to fit a horse four times Hobby's size, and she was off.
Eventually, she hooked up with Kathy Beeson, a trainer and member of the Florida Whips, a not-for-profit statewide equine driving association offering education, clinics, pleasure drives, competitions, picnics, social gatherings and other activities. A "whip" is the term used to describe the driver of the carriage. Barbara bought a smaller, more suitable carriage, and attended her first show at Silver Sands in New Smyrna Beach.
"About all I knew was how to dress up in costume and hitch Hobby up," she said.
Yet, somehow, they won all three of their classes.
Barbara's driving education continued apace. "Every horse is different," she said. "You learn something new from them every day. You never stop learning."
She followed the Florida driving show circuit and eventually bought a carriage, all wood and brass, made by the Amish in Pennsylvania.
Her last show with Hobby was at Continental Acres in Weirsdale, near Ocala, in 2006.
"There were a lot of horses and carriages in the ring, and a four-in-hand came right at us," Barbara recalled. "Hobby fell and injured his stifle. I had to retire him."
For a while, Barbara drove other people's horses until she borrowed Buzzy, another miniature horse, from a friend in 2007. They showed for three years, winning a gold and two silver medals in pleasure driving, then he went back to his owner. During this time, tragedy struck. In 2009, Sonoma, who was only 18, died overnight from unknown causes.
"I almost went out of my mind," Barbara sighed.
A friend loaned her Thunder, a Chincoteague pony, but by then the recession had hit, and Barbara had to put the brakes on spending. Showing is an expensive hobby.
"I had Thunder five years, then my friend wanted him back," Barbara said. "That was so hard, giving him back. He had that same wonderful muzzle smell as Sonora. Giving him back ripped my heart out."
Barbara still has Hobby, retired and 25 years old. She doesn't drive much anymore, but she's still strongly involved with the driving world as a volunteer at many Florida Whips shows. There's a lot for volunteers to do: measuring between cones and obstacles, opening and closing the gate, helping with harness safety checks, timing each go, setting up courses and spotting for balls knocked off cones.
"Volunteers are the cornerstone of driving shows. My favorite job is scribing for judges," she said. "You learn a lot doing that, but I enjoy all of it, watching the competitors go go go. The nice part about drivers is everyone's there to help everyone else. There's nothing like the camaraderie. If someone has a problem or needs help, everyone comes running."
A highlight came in 2010 when Barbara was selected to volunteer at the World Equestrian Games held in Lexington, Ky. She helped out as a spotter and timer at the marathon event. Combined driving encompasses three days of competition. Day 1 is dressage, day 2 is the marathon, a cross-country type course, and day 3 is a cones course.
"It was really exciting," Barbara said.
Now, she's taking a break for a while, helping others get started in pleasure driving.
"I love being able to help introduce others to the fun of driving," she said. "There's nothing like being able to control a horse with just your voice and hands. Plus, it's fun to get dressed up. Driving is exhilarating. I love it so. When I'm sitting in a carriage behind a horse, it all comes together for me."
To learn more about the Florida Whips, visit www.flawhips.org.