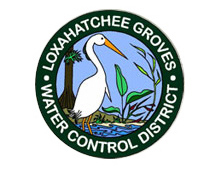 The Loxahatchee Groves Water Control District Board of Supervisors agreed Monday to hold a budget workshop on Tuesday, Aug. 29 at 4 p.m. that will reflect a transition away from road maintenance now that the district has turned over its roads to the town.
The budget will be about $1 million, based on the new direction the district is taking.
The district's final non-ad valorem assessment rate, which will include about a $10 increase per acre, must be submitted to Palm Beach County by Sept. 12.
The trimmed-down budget will be based on assumptions that the district does not maintain roads and that there will be a reduction in fuel consumption, rock purchase and equipment maintenance, according to the staff report.
The budget will also reflect the selling of road maintenance equipment in light of the district's transfer of remaining roads to the town.
The district would purchase additional culvert cleaning equipment, restore the north D Canal and remove earthen berms covering North A Road and North Road.
The budget would also cover the cost of a forensic audit, as well as keep four field employees, which is a reduction from the district's historic five to six employees.
LGWCD Administrator Steve Yohe asked that supervisors have additional items for discussion to him by Monday for inclusion at the Aug. 29 workshop, which was changed to a publicly noticed special meeting due to the addition of items for council action, including approval of a forensic audit of district records.
In earlier budget workshops, it was pointed out that the district would face an approximate $10 per acre assessment increase, whether it kept the roads or not, because if it kept the roads, it would have to invest in new grading equipment to replace old equipment that has become unusable. If it doesn't, it will lose gas tax revenue from the town.
Yohe added that the assessment will go down when a loan is paid off in the upcoming fiscal year that financed a long-boom backhoe and mower purchased about four years ago, which will free up about $90,000. The district will also downsize its field staff to four people. "We are in a reorganization," he said. "We have had some people who left through attrition we haven't replaced. If we're only taking care of restoring the balance of the district canals, which is about 10 miles left to do that over the course of time, and maintaining the canal system and structures, we think we can do that with four people. That will also reduce the budget."
On Monday, the board approved the town's resolution accepting South D Road and Collecting Canal Road from the district, and on July 24 approved conveying all of the district roads to the town.
In other business, LGWCD President Anita Kane said she had asked State Rep. Matt Willhite (D-District 86) to sponsor two local bills, one to change the district elections and annual meeting from July to March to coincide with the town's elections, and the other to make the district dependent to the town.
Kane said becoming a dependent district has been discussed, sometimes very contentiously, for many years.
"That's something that is, as [former Supervisor Don] Widing used to call it, the elephant in the closet, that everyone in the district has been talking about for a number of years," she said. "I asked Mr. Willhite, first of all, what his opinion was about it, and he informed me that at this moment, the political climate in this state is actually one where the government is trying to move toward streamlining, so they are trying to get rid of [special districts], so it's actually a good political climate for us to be looking for dependency, if we want to do that."
Kane asked board members if they want to have legal staff use Wellington's Acme Improvement District as a template for a local bill for the Loxahatchee Groves Water Control District to become dependent to the town.
LGWCD Attorney Mary Viator said the district charter has specific language on how to become a dependent district, which includes a voter referendum.
"I didn't know this was going to be an agenda item tonight, but I would take a look at that, but it would be just like pursuing a proposed local bill," Viator said, adding that the district would need to have cooperation from the town. "If you come up with something, it would certainly need to be presented to the town."
Supervisor Connie Bell said she had a lot of questions about becoming a dependent district, including what the possible revenue implications might be, and what would become of the district employees.
"Our town is managed, they don't have a retirement plan and that kind of stuff in the town," Bell said.