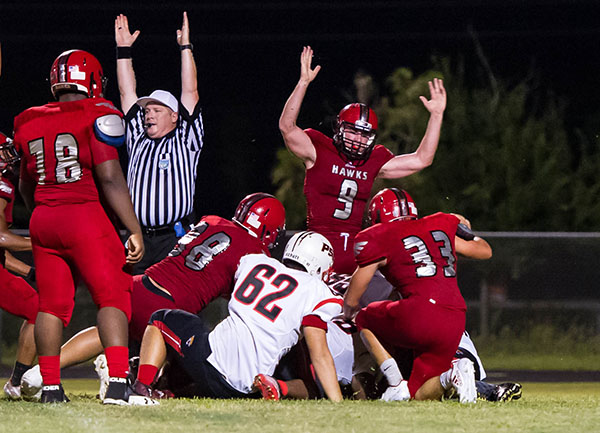 On Friday, Aug. 18, the Seminole Ridge High School football squad hosted Port St. Lucie High School for a pre-season kickoff classic. The Hawks held the lead most of the game but had to rely on the defense to score the go-ahead touchdown and take the match 24-18.
The pre-season games give teams an opportunity to see where they stand a week before the regular season begins. It allows them to direct attention toward the improvements needed before they head into the season openers.
"In the long run, I'm really happy with what happened tonight because we learned to overcome," head coach James Parson said. "Our defense came up big, and they're going to be big for us all year."
It appeared the Hawks would cruise to victory, holding on to a 17-6 lead after the first half, with two touchdowns and a field goal. Quarterback Kaleb Costain found sophomore running back Corey Polk for a touchdown reception, and hit receiver Anthony Angel for the second touchdown. Port St. Lucie found some momentum to close the margin by notching six points on the scoreboard, but Seminole Ridge ended the half with the advantage.
The Jaguars mustered more offense in the second half, particularly in the third quarter, and punched in a go-ahead score for an 18-17 lead. Their point-after attempt failed, so they held tightly to that one-point lead.
The Hawk offense would move the ball on occasion, but pre-season mishaps prevented them from gaining any more offensive points to recapture the lead.
However, the Seminole Ridge defense was relentless on the Jaguar offense in the fourth quarter, forcing turnovers.
The highlight came late in the fourth quarter with less than two minutes remaining to play. After a Hawk punt, the Jaguars had possession inside their red zone. An aggressive Hawk defense forced a bad Jaguar snap, with the quarterback scrambling to the goal line to recover. The Seminole Ridge defense swarmed the quarterback like angry hornets. Linebacker Peter Sinoyiannis smothered the ball in the end zone to lift the Hawks into the lead 24-18.
"We have to get a feeling of how much we play our two-way players and how much we don't," Parson explained. "We have to get the pieces together and shake the rust off."
Seminole Ridge will be on the road Friday, Aug. 25 at Santaluces High School for the regular season opener. Game time is at 7 p.m.