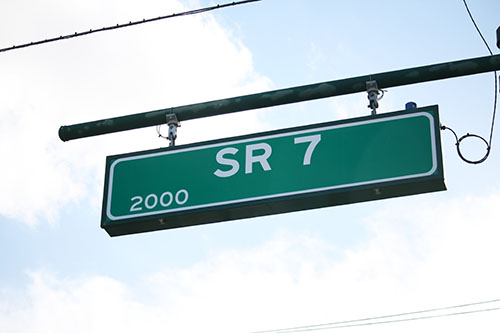 The long-delayed extension of State Road 7 to Northlake Blvd. took another major step forward recently when the U.S. Army Corps of Engineers issued a construction permit for the project.
The road project has long been a top priority for Palm Beach County and governments in the western communities. However, the City of West Palm Beach has fought against the project. Plans call for the roadway to skirt the city's Grassy Waters Preserve and reach Northlake Blvd. along the eastern side of the Ibis community.
The U.S. Army Corps of Engineers Jacksonville District issued a Department of the Army (DA) permit to the Florida Department of Transportation and Palm Beach County for the construction of the SR 7 roadway extension from 60th Street North to Northlake Blvd. The permit was issued on July 20.
The DA permit authorizes widening the existing two-lane roadway to a four-lane divided roadway from Okeechobee Blvd. to 60th Street North (Segment 1), and construction of a new section of four-lane divided roadway from 60th Street North to Northlake Blvd. (Segment 2). The project design includes the construction of associated stormwater management facilities within the existing right-of-way for water quality treatment and flow attenuation.
According to the U.S. Army Corps statement, the project incorporates numerous design features to protect the Grassy Waters Preserve by providing improved runoff quality and emergency containment in the event of a spill. These protective design features include a sealed bridge span with enhanced sidewalls over the M Canal, a dry containment swale, and drainage directed west into existing containment and treatment infrastructure.
The project will impact 59.97 acres of low to moderate quality waters or wetlands. However, beneficial environmental effects will result from the proposed mitigation for effects to wetlands and endangered species, according to the U.S. Army Corps statement. The proposed impacts to 59.97 acres of snail kite habitat would be mitigated through the preservation of more than 216 acres of ideal snail kite and woodstork foraging and nesting habitat.
Additionally, the project includes 52.4 acres of onsite wetland creation, enhancement, restoration and preservation that will provide endangered species critical habitat benefits and minimize secondary impacts by providing a valuable buffer between the project and the Grassy Waters Preserve, the statement continued.
The decision whether to issue or deny the permit was based on the evaluation of the probable impact to the associated waters/wetlands and on the information received through the public notice process. This included a detailed alternative analysis, public interest review and a detailed evaluation of the Section 404(b)(1) guidelines of the Clean Water Act.
ABOVE: The project widens State Road 7 from Okeechobee Blvd. to 60th Street North and extends the roadway to Northlake Blvd.