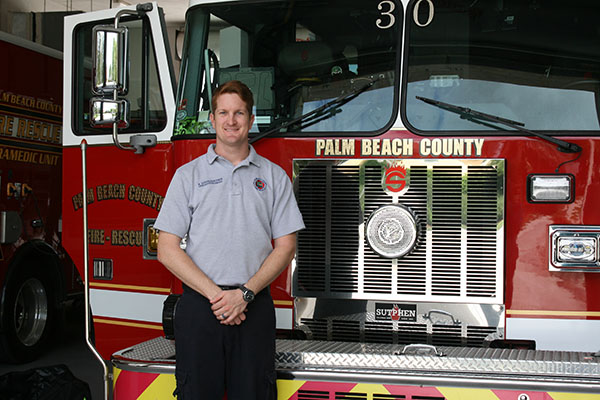 Palm Beach County Fire-Rescue firefighter/paramedic Bradlee Doerzbacher was recently named the Village of Wellington's Firefighter of the Year.
Doerzbacher has almost nine years of fire-rescue experience, with close to three years with Palm Beach County Fire-Rescue. He is also an adjunct instructor at Palm Beach State College and at Wellington High School's Fire Science Academy.
The news that he was nominated for the honor was humbling, Doerzbacher said.
"Obviously, we're a large department. Even our battalion has a lot of stations in it, three different shifts, a lot of personnel — so to hear that I was representing my shift… was definitely humbling," he said.
Doerzbacher was nominated by PBCFR Capt. Jody Marlow, who finds his integrity, drive and personal excellence encouraging. Doerzbacher served with the Martin County Fire Rescue Department and the Martin County Fire Rescue Honor Guard in the first years of his career.
Now, he is with the Palm Beach County Fire-Rescue Honor Guard. His academic experience, ranging from an associate's degree in emergency medical services, core coursework for Aero Medical Crew, coursework for Fire Officer One, Fire Inspector and Fire Instructor 1, to his current project of completing a degree in fire science, show his commitment to learning and mastering his craft.
Still considering himself new to the department, Doerzbacher noted that there are many experienced, polished firefighters who are good people who could have been nominated.
The feeling of accomplishment increased when he learned that he was named the Village of Wellington's Firefighter of the Year.
"Take that feeling and multiply it to the nth degree. You take nominees from three shifts, and then to find out that you were selected from those three, it's definitely an honor," Doerzbacher said. "I appreciate the time that I've spent in the Village of Wellington. I've definitely appreciated the time I've spent serving the community. In particular, I get to work with some of the kids at Wellington High School as a part of an extension of the fire program through Palm Beach State College."
Sharing his passion for the fire service is important to Doerzbacher, who enjoys getting future firefighters ready for their careers.
"Just getting to introduce some of them — some of them have family in the fire service already — but to get to introduce some of them to the fire service and really be starting to pass on information to raise up the next generation of firefighters is a really cool thing," he said. "I just appreciate being in there, around the area and working for the community."
Always involved in sports when he was growing up, Doerzbacher chose the fire-rescue path because it is dynamic, fluid, and full of mental and physical work.
"You never really know what you're walking into when you start any given shift. The medical side, even the tactical side of firefighting, it's a big mental game, in trying to diagnose what's going on with a patient and treat them accordingly, or you're trying to figure out how to attack a fire," Doerzbacher explained. "Then, once you've done that, you have to put your hands and feet to task and get the job done. It was just a really unique blend for me."
The aspect of teamwork, where everyone works together for a common goal, is a fundamental aspect to the fire service, and something that Doerzbacher truly enjoys.
"While there are moments of someone singlehandedly having a huge role in something, those are few and far between. Usually it's the team, it's the crew, that gets the job done," he said. "I love that about the department and fire-rescue in general."
One of the most rewarding aspects of his career, he said, is knowing that with emergency calls, the team can be an element that leads to a positive outcome.
"When you really turn around someone's condition, and you know that there's a good chance that they could have died," Doerzbacher said, "if we had that kind of positive effect, there's very little that I could think of that is more rewarding than that."
ABOVE: Bradlee Doerzbacher, the Village of Wellington's Firefighter of the Year, also teaches future firefighters at Palm Beach State College and Wellington High School.