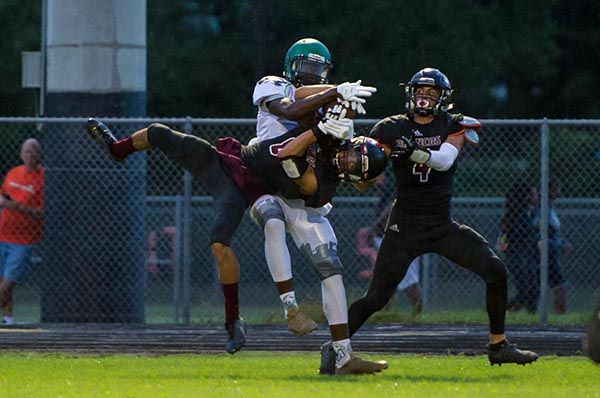 Friday, Aug. 25 was the regular-season opener for the Palm Beach Central High School football team. The Broncos hosted top-ranked Atlantic High School and mounted a second-half rally to upset the Eagles 14-13.
The victory makes a statement for the Broncos, who have struggled the past two seasons, that they are a legitimate contender in Class 8A.
The Bronco defense played an integral role in the success on the night. Palm Beach Central's secondary recorded four interceptions, with Tre Jackson pulling down three and Jesus Santiago grabbing one. Two of the picks were in the Bronco end zone.
Palm Beach Central turned over the ball early in the first quarter with an interception that led to Atlantic's first score of the game. Eagles quarterback Antoine Williams ran in for the touchdown from 13 yards out to lift Atlantic up 7-0.
The Broncos later scored on a 54-yard touchdown pass from quarterback Nick Atkins to receiver Fornoris Roberts, who was wide open on the near sideline and ran untouched into the end zone. The point-after attempt failed, and the Broncos ended the first half trailing 7-6.
Atlantic contained the Bronco offense well into the final minutes of the fourth quarter, but Palm Beach Central continued to push the fight, finally sustaining a drive capped with a C.J. Stewart touchdown. The running back punched in the rock from 1 yard out to lift the Broncos into the lead for the first time in the game, 14-7.
Palm Beach Central's defense was equally as nasty for the Eagle offense until the final moments. Williams put together a drive that eventually put them within reach to tie the game. He connected with receiver Cadarius Gaskin in the end zone to put the Eagles within one point, 14-13. A botched snap on the kick attempt could not be corralled by the holder.
Palm Beach Central held tightly into the final moments to grasp the victory over the seventh-ranked team in the state's Class 8A.
The Bronco secondary was instrumental in shutting down Atlantic's trio of Division I receiving prospects.
Palm Beach Central (1-0) will travel up to Melbourne Central Catholic on Friday, Sept. 1 at 7 p.m. for its second regular-season game.