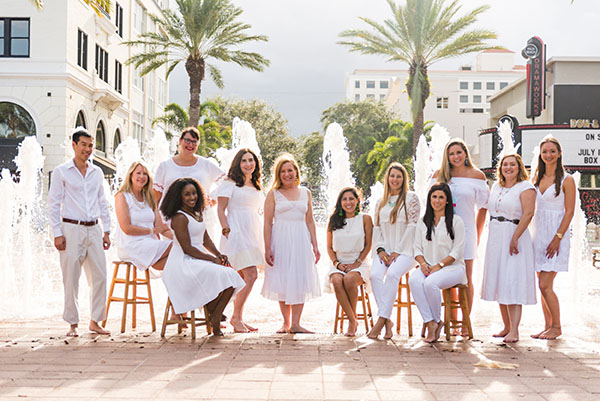 Dreyfoos in White Committee members have been meeting all summer to plan a night to remember at this year's all-white-themed pop-up dinner party. Set for Saturday, Oct. 21 from 6 to 10 p.m., the fifth annual Dreyfoos in White will feature all of the fun and festivities that have made this a must-attend event of the social season.
At Dreyfoos in White, guests dress in all white and host their own al fresco dinner party within the grand event — bringing simple fare, an extravagant feast or by purchasing their meals from the prix fixe menu provided by Sandy James Fine Foods. The foundation does the rest — providing tables, chairs, sparklers to light up the night, and entertainment by Dreyfoos students and alumni. Dreyfoos in White also includes a prize drawing with tickets available at $25 each or three for $50.
Tickets for Dreyfoos in White are $50 and are available at www.soafi.org. Proceeds benefit the Dreyfoos School of the Arts Foundation.
This year's committee includes Sarah Yansura Cooke, Mary Beth Crane, Darlene Dzuba, Tiffany Faublas, Jessica Fontaine Swift, Heather Graulich, Allison Rogers Haft, Camila Helander, Nick Kassatly, Stefani Kochanski, Jason Lowe, Laura Romeo Nuttle, Amy Price, Kimberly Ramia, Alice Randolph, Kremer Shell and Jessica Vilonna.
Funds raised through Dreyfoos in White help support vital educational programs that would otherwise not be funded. Last year, the foundation provided $1.3 million in support to the Dreyfoos School of the Arts.