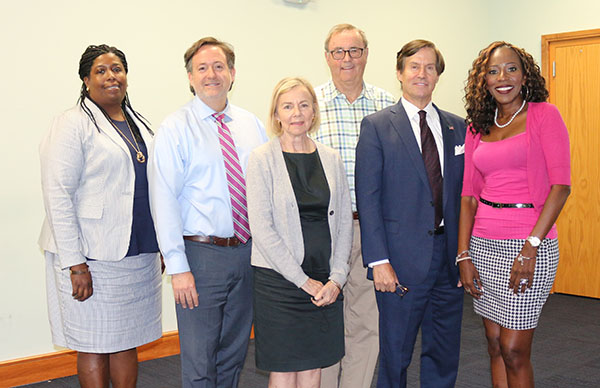 On Tuesday, Aug. 29, the Village of Wellington hosted a "Let's Talk" legal fair workshop and symposium for senior citizens on end-of-life care and related legal issues. The program was part of a monthly series organized by the village on senior issues.
Let's Talk Soon Executive Director Charlie Ring discussed end-of-life care. His organization encourages seniors to discuss this sensitive issue.
"When we're talking about end-of-life care, and preparing for that, it conjures up all kinds of emotional issues," Ring said.
Only 30 percent of Americans have a living will, he said. While 90 percent of people say talking about end-of-life care with a loved one is important, only 27 percent have done so. While 82 percent say it is important to put their wishes in writing, only 23 percent have done so.
Jane Decker and Cindy Collins, board members of Let's Talk Soon, spoke about choosing a healthcare proxy.
Collins said the first step is getting ready for the conversation, so that if you are caught off guard and are ill, someone will know what you want.
Who you want as your healthcare proxy, where you want to be, how you want to be treated and what you want done are all topics to discuss, Collins said. "It's so much better to get this done up front," she said.
Decker prepared the audience about talking about end-of-life conversations.
"I'm here to tell you that your children and your grandchildren, your husbands and your wives, will forever thank you for talking about this conversation," she said. "It's not an easy conversation to have, but it can be done, and it really should be done. I've watched hundreds of families who have been torn apart because they didn't know what their mother or father wanted them to do."
Decker suggested two legal documents, a healthcare proxy, and an advanced directive, suggesting that seniors can do both.
"Every state has its own form of advanced directive," she said. "The State of Florida has one. All 50 states have their own… If you have a Florida advanced directive, its good in the State of Florida, but not so good in the State of Kansas."
Going to the hospital can be a slippery slope, Ring said, where you go in for one thing, and other things wind up occurring, and quickly.
"The more you can talk about this in advance, the less emotional trauma you're going to have later on," Ring said. "We should all consider doing these advanced directives."
Tequisha Myles of the Legal Aid Society of Palm Beach County spoke about advanced directives, last will and testaments, and guardianship. "Do you need an estate plan?" she asked. "If you have children, or minor children that you have custody of, or you'd like to donate money to charity… you need to really consider putting down your wishes on paper."
For healthcare decisions, there are many documents to consider, including living wills, do-not-resuscitate (DNR) orders and the designation of a healthcare surrogate. Legally, seniors need to consider durable powers of attorney, limited powers of attorney, last will and testaments, and guardianships.
When you haven't done all the planning you should have done, and you can't make decisions on your own, guardianship becomes the last resort, Myles said.
"You want to make sure we plan, plan, plan. One way to get around guardianship," Myles said, "is to do a power of attorney now, when you have sound mind, now, when you have the decision-making capacity."
Marshall McDonald of the McDonald Law Firm discussed the four main reasons why someone would have a revocable trust: a trust avoids probate without losing control, to delay distribution to their children upon their death, creditor protection for your children and when where there is a need to protect an inheritance so a beneficiary can apply for public assistance.
"One of the benefits of a revocable trust is to try to avoid a guardianship, and that's done by having a trust hold the assets, and a spouse or child be the trustee and use the funds for your care," McDonald said.
Elder care attorney Mark Shalloway discussed Medicaid planning, noting that nursing homes range in cost from $8,000 to $14,000 a month.
"Medicare does not pay for long-term stays at nursing homes, maybe up to 100 days," he said. "It does not pay for assisted living care."
Medicare is not designed to be long term, he explained. There are three places for people to live when needing long-term care: at home, in an assisted living facility and in a nursing home.
Medicaid, however, gets added on top of Medicare coverage, Shalloway said. "Medicaid is oxygen to the nursing home community. They need it because they can't keep their doors open when they charge $8,000 to $14,000 a month without financial aid," he said.
To learn more about this and other senior symposiums, call Senior Services Specialist Meridith Tuckwood at (561) 753-2476.
ABOVE: Senior symposium speakers Tequisha Myles, Mark Shalloway, Jane Decker, Charlie Ring, Marshall McDonald and Paulette Edwards.