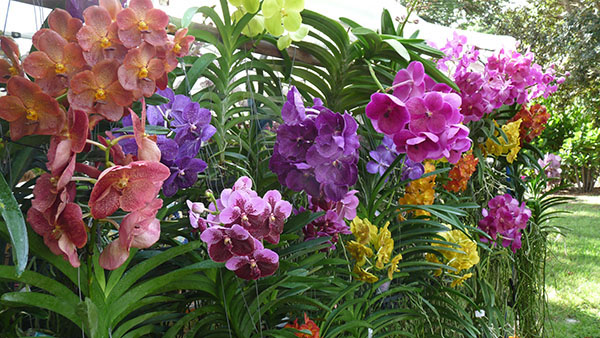 Friends of the Mounts Botanical Garden will host one of its most popular annual events, the Exotic Plant & Orchid Sale and Indoor Arts & Craft Fair, on Saturday, Sept. 16 and Sunday, Sept. 17.
Plant lovers of every age are invited to stroll through Mounts Botanical Garden and enjoy the new and improved sale, featuring an amazing selection of more than 25 rare and unusual orchids, plus a wide assortment of exotic plants.
The indoor and air-conditioned Arts & Craft Fair will feature numerous vendors selling orchid jewelry, orchid supplies, locally produced honey and a variety of gourmet teas, including the exclusive Mounts Botanical Tea, along with the Palm Beach County Wood Turners and a festive Beer & Wine Garden.
"South Florida is home to more than 50 native species of orchids," said Rochelle Wolberg, curator-director at Mounts. "The joy of growing orchids is in the spike — watching it flourish and blossom is truly a natural wonder — and we will have more than two dozen different varieties of orchids available for purchase."
This popular annual event is also the perfect opportunity for plant lovers to walk through the garden, take-in the horticultural beauty and even visit the new Windows on the Floating World: Blume Tropical Wetland Garden and a preview of the next exhibition, Washed Ashore: Art to Save the Sea.
The sale and fair will be open from 9 a.m. to 4 p.m. on Saturday, Sept. 16, and from 9 a.m. to 3 p.m. on Sunday, Sept. 17. Like all events at Mounts Botanical Garden, it will be accessible to those with disabilities.
Admission is free for members and children 12 and under, and $10 for non-members.
With a mission to inspire the public, the Mounts Botanical Garden is Palm Beach County's oldest and largest botanical garden, offering gorgeous displays of tropical and sub-tropical plants, plus informative classes, workshops and other fun-filled events. The garden contains more than 2,000 species of plants, including Florida native plants, exotic and tropical fruit trees, herbs, palms, bromeliads and more.
The Mounts Botanical Garden, located at 531 N. Military Trail in West Palm Beach, is a facility of the Palm Beach County Extension Service, which is in partnership with the University of Florida and the Friends of Mounts Botanical Garden.
For more info., call (561) 233-1757 or visit www.mounts.org.