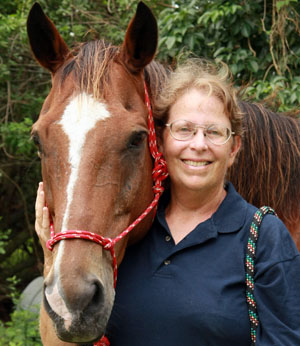 TAILS FROM THE TRAILS
Once in a while, someone comes along who's just so accomplished that watching him ride takes your breath away. Jon Ingram on horseback is almost magical. A few weekends ago, on Saturday, Aug. 26, I stopped by his place, Jon Ingram Performance Horses, located at 3546 161st Terrace North in Loxahatchee Groves, and watched part of a clinic.
Jon grew up in Southern California with the traditions of the California reined cow horse, which emphasize lightness and finesse. He trained his first horse when he was just 10 years old and never looked back. For more than 30 years, he has successfully trained and showed working cow horses, cutting horses and his specialty, reining horses, serving as a founder and first president of the Idaho Reining Horse Association. He has earned nine world and national titles.
But before you pigeonhole him as a Western trainer, he has improved horses in every discipline. Jon is a constant and enthusiastic student of anything equine, and never quits learning or trying to improve his methods. Which is where the clinic comes in, one of a series he plans to hold throughout the year. Riders of every level are welcome to attend, English and Western. Participation costs $50 and is well worth it. Auditing is free, and may be the best bargain around.
Each clinic covers a different skill. The Aug. 26 one dealt with suppling, helping riders teach their horses how to bend and use their bodies more easily. Most of the participants of the clinic were barrel racers, so bending their horses around the barrels fit right in.
"But suppling is important in every type of riding," Jon pointed out. "Jumping. Dressage. Pleasure. You should be able to bend your horse easily."
Jodi Jansen of Loxahatchee brought along BB, her 3-year-old Quarter Horse mare. She successfully runs barrels with the WPRA pro-rodeo Southeastern circuit. "I've ridden with Jon in the past, and he has helped me immensely," she said. "This is the first time I've attended one of his clinics. He has a great eye for watching you ride and helping you learn. He knows a lot, and he can explain it in a way that makes sense. I think learning better ways to get BB supple will help us add speed and have more control. Jon is awesome, a trainer's trainer. Even the most experienced horseman can learn from him."
Kelsey Feikery, also of Loxahatchee, was riding Sugar Bean, her 11-year-old Quarter Horse mare. It was her first time riding with Jon. "I hope attending this clinic will help me get a better feel for her body," Kelsey said. "Reining horses are really good at moving their bodies. I want to learn to help her lift and move her rib cage. That's her weak spot."
Watching the riders move around him, Jon corrected small things. His style included equal parts of talking, listening, watching and demonstrating, as he was mounted on one of his horses.
"Riders should be able to move every part of their horses easily and independently," Jon said. "This is useful to riders in every discipline. If you can move every part of the horse, you can have him do anything you want. I enjoy teaching and watching riders and horses progress no matter whether their goals are — showing or just having a safe, pleasant trail horse."
Everything was done one-on-one. Each rider rode and received suggestions.
"Start slow and easy with an exercise, make it simple for the horse to understand what you're asking," Jon explained. "A nice horse wants to do what you ask him to do. If he acts up or refuses over and over, then something's wrong. Have his teeth checked, or call a chiropractor. And riders must be consistent and honest. You can't correct a mistake one day and then let it slide the next. Horses appreciate honesty. They don't like liars."
Melanie Lima of Loxahatchee rode Libby, her 3-year-old Quarter Horse mare. "We've just started Libby," Melanie said. "She's green broke and only been under saddle for three weeks. I bring her over every Saturday. I like having an expert help me train her so it's done right. Jon is a really special person. He sees how horses think and helps us work together."
Melanie's issue was a lack of confidence in riding such a green horse.
"Jon is helping ease that. He shows me how and when to use my legs and reins," she said. "I have a better seat now. We're getting there. I like the way he gives me homework to work on each time, not too much, just enough that we can progress and then come back and learn something else and improve. My long-term goal is to make her a cutting horse. We'll see if she has the talent. If not, maybe we'll try reining."
Stephanie Fountain of Wellington rode Jax, her 5-year-old Quarter Horse gelding that boards with Jon.
"I hope to start showing him in reining next show season," she said. "I haven't been out to ride him in a few weeks, so I'm getting the cobwebs out, getting back into the swing of things. Jon is awesome. He has a great way of putting a solid start on a young horse."
In addition to showing Jax, she wants him to be an all-around family horse.
"Jon and his daughter, Meghan, who helps him out, really took their time with Jax," Stephanie said. "I appreciate the way they work with their clients and tailor the training to specific needs. I wanted a horse who knew all the reining moves but would be quiet enough for my kids to ride. They really care about their clients, both humans and horses. I call Jon's farm the best-hidden gem in the local horse community."
For more information about upcoming clinics, call (561) 626-1429 or visit www.facebook.com/IngramReining or www.ingramtrainingblog.wordpress.com.