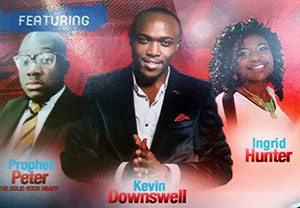 Royal Palm Covenant Church will host a fundraising concert featuring well-known Jamaican gospel singer Kevin Downswell in Royal Palm Beach High School's auditorium on Saturday, Sept. 16.
"This is our attempt to start a major fundraising program to allow us to be able to acquire a permanent home for our church and the food pantry that we now have," Pastor Michael Rose of Royal Palm Covenant Church said. "It's a big move for us. This is the first program that we're launching."
Aside from Downswell, the concert lineup includes Copeland Davis & Company, Prophet Peter, Ingrid Hunter, and Prophet Peart and the Full House Choir. The event also features the FCWC Dance Ministry, the Royal Palm Covenant Worship Team and Avea Bernard.
"Kevin Downswell is one of Jamaica's most famous gospel singers right now. He has traveled extensively across the world," Rose said. "He's been to Royal Palm Covenant Church several times before. He has been to our banquets. He is a supporter of ours, but he has never been to Royal Palm Beach to perform on this level."
Rose expects close to 850 people to attend the evening concert. Doors open at 5:30 p.m. Admission is $35 in advance and $40 at the door for adults, $50 in advance for VIP tickets and $20 for children 12 or younger.
"We have a few donors helping to sponsor the program, and the major funds are going to come from the tickets sold for the concert," Rose said. "There are going to be refreshments available, and there will be several vendors there to offer different things."
Rose hopes to bring the community together alongside the fundraising efforts that are part of the event.
"We're hoping that this will be a great time for community, for fellowship and to support the food pantry," he said. "Our church is one of the first churches in Royal Palm Beach, and we have been a blessing to many other churches here in the community. We hope that folks will come out and be a blessing to the church and the food pantry."
Rose hopes the concert will be a spark for more annual events put on by the church in the future.
"We also waynt people to know that they don't have to wait for an event to donate to the church or to the food pantry particularly," he said. "They can call the church, or they can send us a check, or they can go to our bank, TD Bank. We have a food pantry account, and we have a building fund account, so they can donate to those choices."
The church is transitioning from conducting its prayer services at the Regal Cinemas theater in Royal Palm Beach. Rose said the church will have services in the high school auditorium moving forward.
"Starting on the first Sunday in September, we will be having our service at Royal Palm Beach High School," Rose said. "We will be moving services from Regal to the high school, which I think will be better."
Rose has been advertising through different media and expects concert attendees to be coming from near and far.
"I believe this audience will be multicultural," he said. "We are expecting people all the way from Miami and Port St. Lucie to be attending the event. I believe we are going to be getting people from different communities coming to support us."
While the church is searching for ways to raise money, it continues to support the Royal Palm Beach community through its food pantry, which recently moved to a new location at 650 Royal Palm Beach Blvd., Suite 9.
"The only reason we are there is because of Jess Santamaria, who has been so gracious to allow us to occupy that space. That is out of the goodness of Jess Santamaria's heart for us to be there," Rose said. "We are presently serving 155 to 200 families on average per week. The pantry continues to be a blessing to our western communities, and we want it to continue to be so."
As Rose and the church prepare for the Sept. 16 concert, support for the event is still sought to bring it all together for the congregation and the community.
"So far, we are still hoping there are people who will come alongside us and support us financially to help us pay for the facilities and, of course, the artists. All those things are costing us right now, so we're still in the fundraising portion of this," Rose said. "We know it's going to happen, but we're still looking for people to come, and say, 'Hey, we will sponsor this,' or sponsor a portion of the event."
Royal Palm Covenant Church has been a place of worship in the community since 1962. Rose has been its leader since 2003, and the pantry has been serving people in the community for more than 15 years.
For more info., call Pastor Rose at (561) 294-9258, Royal Palm Covenant Church at (561) 793-1077, e-mail rpbcovenant@gmail.com or visit www.rpcchurch.com.
"I believe it's going to be a great evening to come and celebrate, and just to have a wonderful time, sharing with each other our culture," Rose said. "You have the Jamaican culture here. You have different people who are from here, so it's going to be a great opportunity for fellowship and to listen to different styles of music."