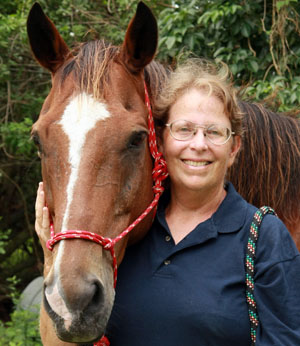 Tales From The Trails 
Sandra Seiden is the driving force behind the local chapter of Personal Ponies, part of a unique national nonprofit charity. The Boca Raton-based group provides farm visits to groups such as JARC and the Gold Coast Down Syndrome Association, enabling clients to spend special therapeutic pony time. She also brings ponies on visits to hospitals, schools, nursing homes, veterans hospitals, and learning centers such as Easter Seals and ARC — wherever a pony's special touch can help.
Growing up in Cranford, N.J., Sandra was a horse-loving kid who lived to ride. Her grandparents bought her a horse when she was a teen, but then came college, life and children, and horses receded to a fond memory. Until her daughter, Rebecca, started riding.
"What's wrong with this picture?" Sandra wondered. "How come she's the only one riding?"
Soon, Sandra was back in a saddle, eventually owning two horses she rides on trails for pleasure. Sandra's first four children excelled at everything, with Rebecca eventually becoming a veterinarian. Then, along came a surprise fifth child.
"Jacob was born with special needs," Sandra recalled. "He has the rare Prader-Willi syndrome. He's developmentally delayed, has Type 2 diabetes, an insatiable appetite, was nonverbal through his early years and is on the autism spectrum."
The family sought out many of programs and therapies for him.
"When Jacob was four, he began therapeutic riding with Horses and the Handicapped. I knew horses would have a positive effect, and sure enough, he just lit up every time he was near a horse," Sandra recalled. "While I was researching horse therapy programs, I came across a link to Personal Ponies. They breed tiny Shetland ponies and place them around the U.S. free of charge."
Impressed with the concept, she e-mailed founder Marianne Alexander, telling her about Jake. "We kept writing, and one day she asked if I wanted to apply for a pony," Sandra said. "I wasn't sure, but two weeks later, she wrote that she'd found the perfect pony for Jake. My husband was onboard. We were willing to try anything that might help. So, we got not one, but two ponies, Cookie and Sugar. Jake was 4 years old. When they arrived, I heard Jake talk for the first time. 'My ponyz! My ponyz!' It was like magic."
Even though Jake was not a confident child, after the ponies arrived, he became much more independent, brushing them himself, even pushing away Sandra's helping hand. He took the ponies for walks.
Knowing there were other special needs children out there, Sandra decided to share Cookie and Sugar. She reached out and contacted local groups, organizing "Breakfast in the Park with Ponies" and scheduling visits to the Miami Children's Hospital and schools with special-needs programs. She held fundraisers to buy a trailer, and things grew.
Her Personal Ponies group, begun 13 years ago, now has seven ponies at a five-acre private farm. It still serves children, but also Alzheimer patients, hospice centers, Boys & Girls Club locations and addiction/detox groups. Children come to the barn each week to participate in different activities, which aid increased attention span, following directions and practicing verbal skills. Programs include pony visits to retirement homes, hospitals, schools, and centers treating disabling injuries resulting from fires or accidents, and emotional or behavioral disorders caused by abuse, neglect or abandonment.
Pony Tales is a unique reading program where students get to select and share a book with their pony reading buddy. Ponies for Heroes serves veterans and their families by providing a group or one-on-one interactive farm experience.
"Ponies bring a lot of comfort," Sandra said. "Their size makes them less intimidating to children. Kids can independently groom and lead and handle them. I love watching the interaction of a child talking to his pony, kissing him, looking him in the eye and feeling comfortable and relaxed. Plus, ponies can go places big horses would never fit."
She is proud of the work Personal Ponies do.
"I'm always amazed at the progress our clients make. Very often, a special needs child doesn't have a best friend. Ponies don't judge or laugh. They understand, and a trusting friendship develops," Sandra said. "Personal Ponies promotes an 'I can' attitude by allowing children to interact through tasks such as grooming, handling, stall maintenance and feeding the pony. We strive to help this attitude carry over to school, family and social settings."
Jacob is 18 now, and Sandra credits the ponies as key to his development. He helps out at the barn, which empowers him.
Personal Ponies is run completely through volunteers. No one gets paid, and there are no fees for services. All funds are used to purchase and care for the ponies, along with operational expenses.
"We focus on what we can do," Sandra said.
She always finds a way to work in new clients. She is also on the lookout for volunteers, either with or without horse experience. She is also looking for people who have room to house some ponies.
"We couldn't exist without our volunteers," Sandra said. "There are many opportunities to get involved. This program started as Marianne Alexander's dream, but it has become my passion, a volunteer position that became a full-time job. A true labor of love, it's one of the most rewarding things I've ever done."
For more information, or to help out, call (561) 445-4456 or visit www.personalponies-fl.org, www.facebook.com/personalponiesfl or the national group at www.personal ponies.org.