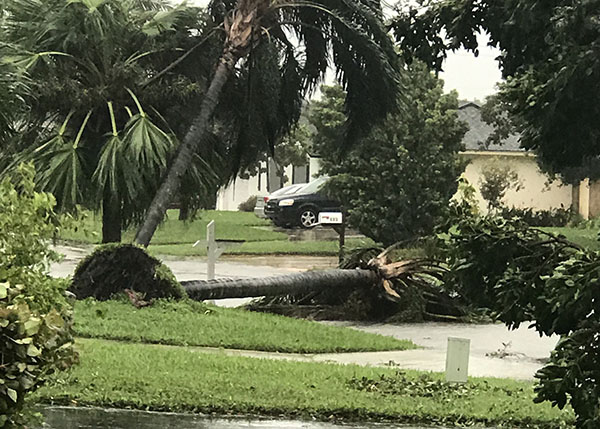 Some broken branches, damaged fences and downed trees describe the majority of Hurricane Irma's wrath on Royal Palm Beach.
Royal Palm Beach Village Manager Ray Liggins said that the bulk of the damage from the storm was vegetation, with very little structural damage.
"We prepared for the worst and we got the best of Irma, if there is a best of Irma," he said. "We certainly didn't get the brunt of it like the west coast did and some of the islands did."
Sections of the village lost power, such as the older section at the south end of Royal Palm Beach Blvd., parts of Counterpoint Estates and La Mancha, as well as Saratoga and Madison Green, he said. Some parts of the community had electricity throughout the storm, and electricity was being rapidly repaired throughout the area by the middle of the week.
Power is expected to be back on to almost all customers by Sunday, Sept. 17. However, residents can report power lines that are down, as well as power outages, by calling (800) 468-8243.
While some municipalities had problems with potable water and wastewater, Royal Palm Beach fared well with no boil water alerts.
"Water was never an issue," Liggins said. "Palm Beach County Water Utilities' water system was always up and running and was never an issue. When the power did go down, they had generators already placed at the lift stations and were ready to operate them as necessary."
Garbage pickup was suspended, but was resumed by Republic Services as of Tuesday, Sept. 12 for garbage and bulk collection. Residents are asked to place containers at the curb on their normal trash day. Recycling will resume its normal schedule starting Monday, Sept. 18.
As of Thursday, Sept. 14, Bergeron Emergency Services resumed collecting vegetation. Residents are asked to avoid placing their downed greenery near mailboxes, signs and fire hydrants, and to keep plant and tree debris separated from bulk items.
Once Irma's winds slowed, Royal Palm Beach's public works crews went to work clearing the streets to prepare for Bergeron, Liggins said.
Village staff went back to operating as normal Tuesday, Sept. 12.
Due to problems with lights, trees and other damage, some of the parks in Royal Palm Beach are temporarily closed. Check www.royalpalmbeach.com for the most up-to-date information about park closings.
All-in-all, Royal Palm Beach made it through Hurricane Irma in excellent condition.
"It was a preparation exercise. We never got the full brunt of it," Liggins said. "[Hurricane] Matthew [last year] was a great exercise for a lot of the new things we had been implementing in emergency management and recovery. We got to practice in Matthew, and we got to practice in a little bit higher of a degree this time. I'm really pleased with the way things are working out."
Coordinating with the damage assessment teams and the building department also went well, Liggins said. He expects estimates by the end of the day Monday, Sept. 18, as well as reports to the Palm Beach County Emergency Operations Center.
"The group that we have here is very dedicated. They're getting us up and back to normal as quickly as possible," Liggins said. "We have to be very, very organized in the way that we deal with stuff like this."
Liggins credited the efficient work of village staff during the storm to Village Engineer Chris Marsh.
"Chris Marsh is our lead emergency manager. He has rewritten the emergency plan. He has done a good job of writing up a plan that has everyone's responsibilities well spelled out," Liggins said. "When everyone knows what they need to do, they do it, and they did, and I'm very pleased."
All department directors have responsibilities and roles, and one of those includes keeping notes on lessons learned. "There are always lessons learned," Liggins said.
The most amusing lesson from Hurricane Irma is to be cognizant of how vehicles are labeled.
The village used code enforcement vehicles and staff, along with building inspection staff, for private property damage assessments. They came across a woman on Monday, Sept. 11, who thought that they were out first thing after the storm on code enforcement duties.
"I think in the future I will get magnetic stickers that cover up 'Code Enforcement' with 'Damage Assessment,'" Liggins said.
For more information regarding Hurricane Irma in Royal Palm Beach, visit www.royalpalmbeach.com.