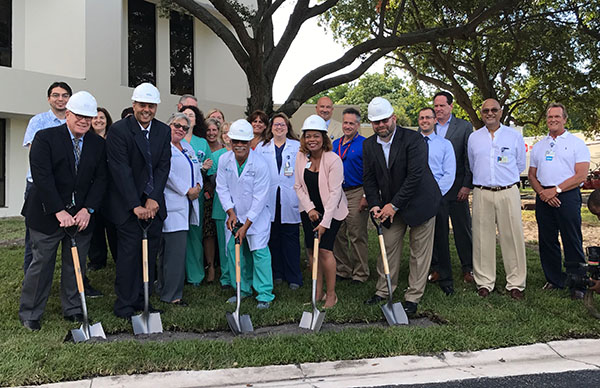 A groundbreaking ceremony on Aug. 22 marked the start of construction for St. Mary's Medical Center and the Palm Beach Children's Hospital latest improvement project — a $10 million expansion of its acclaimed Level I Trauma Center. Community leaders, trauma surgeons, nurses and staff gathered for the occasion, which featured a ceremonial "first dig" on the future site of the new entrance.
Doubling the size of the current trauma center, the expansion will add four additional dedicated trauma resuscitation rooms, including one devoted to pediatric trauma; a new, separate ambulance bay entrance; new up-to-date overhead radiology equipment in all trauma rooms; and hurricane-resistant windows throughout. The expansion is expected to be complete by late 2018.
"As one of two state-designated adult and pediatric Level 1 Trauma Centers in Palm Beach County, we provide the highest level of care to treat the most critical patients in our community," said Gabrielle Finley-Hazle, CEO of St. Mary's Medical Center and the Palm Beach Children's Hospital. "This expansion will allow us to better meet the needs of the community by having the capacity to treat more patients — and treat them even faster. We are committed to reinvesting in the hospital so we can be ready when our residents need us most."
Earlier this year, St. Mary's expanded its trauma step-down unit and trauma medical/surgical unit. A new pediatric medical/surgical unit was also added to the Palm Beach Children's Hospital at St. Mary's as a way to provide a kid-friendly healing environment for the entire family. The new pediatric floor features a stepdown unit, interactive playroom, family lounge and enlarged procedure room. In addition to more spacious, cheerful, private patient rooms with flat-screen TVs equipped with Xbox in every room, four signature suites complete with adjacent living rooms have been added to help create an intimate, comfortable setting.
For more information, visit www.stmarysmc.com or call (561) 844-6300.