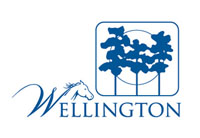 Wellington officials are urging all residents to get as prepared as possible for Hurricane Irma, which is expected to impact South Florida over the next few days.
Wellington Village Manager Paul Schofield said that the village has been working diligently to prepare for the storm, in addition to its normal operating procedure of year-round storm preparation.
"We have pumped our water levels down as low as our South Florida Water Management District permit allows us to do," he said. "We have gone out and made sure we've got all the fuel and things we need to run if we lose power, and we typically do in a hurricane, so we can run our water treatment and wastewater plants on generators, so people do not lose that."
Hurricanes that move quickly, he said, are often more wind events than rain events, and although there is likely to be some road flooding, Wellington can deal with 24 inches of rain — well more than projected with Hurricane Irma.
"What people should be doing right now are the things that we are doing. Make sure that their basic supplies are available; make sure there is water and food; do the things like pre-stage, getting ready to put their hurricane shutters on," he said. "They need to get as prepared as they can get."
Though the storm's maps and charts keep changing, Schofield, who has been through many storms, warns that you should never take them for granted.
"People should prepare for a storm that is very, very bad," he said. "I don't want people panicking, but I want them preparing."
Preparing involves many things, whether it is signing up for Wellington's CodeRED notices; downloading apps such as PBC Dart to your phone; gathering batteries, food and medicine; securing loose debris; or making a family hurricane plan.
There are some things that are on the to-do list, and some that are not.
"If you have shutters, put them up. Do not tape windows," Schofield said. "There's this myth that if you put tape on your windows, it will help, but it doesn't. All it does is hold them together and create sharper shards. If you don't have shutters, don't tape them."
The memories of storms such as Frances, Jeanne and Wilma are still fresh in people's minds, he added, but there are key differences. During those storms, which took place in 2004 and 2005, many grocers and gas stations took days or weeks to reopen. Now most of them have generators and will be up and running relatively quickly once it is safe for people to venture out again.
"The biggest problem that I will really caution people about is, with major hurricanes, when we lose power, it could be out for days or weeks sometimes," Schofield said. "Make sure you have some nonperishable foods. If not, things could go bad very quickly."
In the case that you do not feel safe in your home, Wellington Emergency Management Director Nicole Coates suggests exhausting your list of friends, family and neighbors for a safe place to stay.
Once that list has been checked, she said, Palm Beach Central High School is the closest shelter for Wellington. That school, as well as nearby Seminole Ridge High School, are two of the 15 planned general population emergency shelters that will open at 10 a.m. Friday.
If you are going to a shelter, Coates suggests bringing hand sanitizer and other small toiletries, medicine, food, extra clothing, pillows, blankets, flashlights, books or games, important paperwork, insurance documents and anything that will bring you comfort during the storm, keeping in mind that you will likely be allotted approximately 10 square feet of space.
In the meantime, many locations around Wellington will be closed.
Wellington's public works crews have placed the canals in their low operating range and construction projects are being secured. The Wellington Municipal Complex will remain open through 5 p.m. Friday. However, from Friday, Sept. 8 through Monday, Sept. 11, many locations will be closed, including the Wellington Aquatics Complex, the Wellington Community Center, Village Park, the Tiger Shark Cove Park ballfields, Community Park, Olympia Park and Wellington Green Park.
The Wellington Tennis Center will close a day earlier, on Thursday, Sept. 7. Starting at 5 p.m. on Friday, the Wellington Dog Park, Scott's Place Playground and the Tiger Shark Cove Park playground will be closed through Monday.
Wellington trash pickup will continue its normal schedule through Friday, but is suspended for Saturday, Sept. 9. Residents are asked to refrain from yard and construction projects, including cutting down trees, until after the storm has passed.
The following Wellington events have been canceled as of Wednesday afternoon: the Sept. 7 Food Truck Invasion, the Sept. 9 Jeff Annas 5K Run, the Sept. 11 9/11 Remembrance Ceremony, the Sept. 13 Hawthorne Park grand opening, and all amphitheater events from Thursday, Sept. 7 through Saturday, Sept. 9.
To keep informed about the storm from a Wellington perspective, visit www.wellingtonfl.gov/storm.