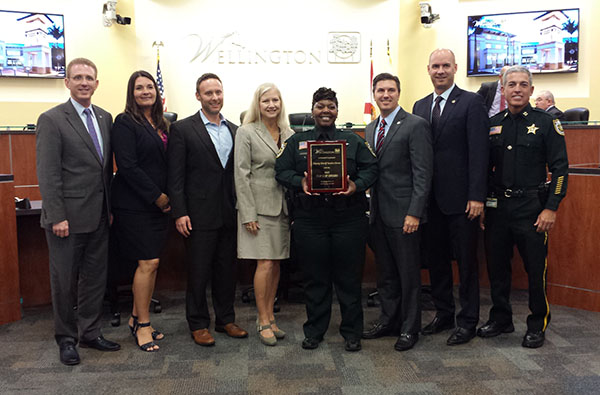 The Wellington Village Council unanimously approved a resolution Tuesday, Sept. 26 to urge the Florida Legislature to enact legislation that would make texting while driving a primary offense, as opposed to its current status as a secondary offense.
"Hearing from residents, it really is a concern that drivers have had," Wellington Mayor Anne Gerwig said.
Palm Beach County Sheriff's Office Capt. Rolando Silva and Deputy Scott Poritz were asked their thoughts on the issue.
"Right now, we don't have a position on it. From working the roads, it's just like the seat-belt tickets many years ago," Poritz said. "They were a secondary offense, and it took a while for it to become a primary offense. What you have is more of a distraction driving."
Poritz said that distracted driving is not only the use of cell phones behind the wheel.
"On average, 11 people a day die from distraction driving," he said. "One in five accidents is caused by distraction driving. It's not just the texting alone."
State Rep. Emily Slosberg (D-District 91) provided an e-mail request to Gerwig in August asking that Wellington pass a resolution supporting legislation that would make the act of texting while driving a primary offense, joining the City of Boca Raton and the Miami-Dade County Commission.
"Texting while driving has become an epidemic," Slosberg wrote. "Florida fatalities are increasing, almost 18 percent in 2015 over the prior year. Teen driver fatalities increased almost 30 percent."
Slosberg and her father, former State Rep. Irving Slosberg, are among Florida's top advocates for safe driving laws. Emily Slosberg was injured and her twin sister Dori died in a Boca Raton crash that killed five people in 1996.
Councilman Michael Drahos commended Slosberg on her advocacy, noting that he was recently in downtown Miami and noticed someone texting while driving through an intersection.
"This is an instance where your actions are putting the lives of others in significant danger," he said. "I have no problem supporting something like this because it's an epidemic. We need to do something about it, and we need to give them the tools to be able to do something about it."
Councilman Michael Napoleone said 46 states have banned texting while driving, and 41 states have made it a primary offense. It is obvious that the primary cause of distracted driving is the use of cell phones, he said.
"Here, we don't have power to do anything except urge the legislature to act," he said.
Silva said that people typically do not admit to being on the phone, mostly for rear-ender accidents.
"Having it be a secondary offense, as a practical matter, really doesn't play out that well for us," he said. "I know from our investigators who work the accidents, they know that distracted driving is the reason behind a lot of these crashes, especially the rear-end cases."
Gerwig suggested using the term "distracted driving" instead of texting, as there are many factors that are distracting, including talking on the phone, reading a book or more.
Silva explained that for those driving alone, using their phones for maps creates a difficulty, and they can use devices to hold the phones. For states making it a broader statute, Silva said he would be interested in learning the rationale of other governments.
"This is very clear. Texting is a danger. You're not focused on the road when you're doing it," Drahos said.
Councilwoman Tanya Siskind said that, with a teen driver in her house, the topic hits close to home.
"I know if it was a primary offense, it would make people think more about not texting while driving. It would be one more deterrent," she said.
Vice Mayor John McGovern added that high schools are having students write to elected officials, and coincidently, Siskind's daughter wrote to him regarding the topic of texting while driving.
"She wrote about this and her friends, and this concerns her," he said. "This is something that is timely, topical and stands to potentially save lives."
Siskind made a motion to approve the resolution, which passed unanimously.
In other business:
• PBSO Deputy Sandra Horne was presented with a plaque for being awarded the Village of Wellington's 2017 Top Cop Award for her hard work and dedication to the community, in particular, her work with seniors in the village.
One day, when Horne was checking on one of her seniors, she noticed something was wrong, took action and discovered that the woman was in her bathroom, barely breathing.
Horne's awareness, observation skills and quick action made the difference between the woman dying on her bathroom floor after being there for five days, or recovering and thriving, as she currently is.
• The Florida Green Building Coalition Local Government Gold Certification Award was presented to the Village of Wellington by Florida Green Building Coalition Executive Director C.J. Davila.
• McGovern, who had three open board appointments, has appointed Ryan Mishkin to the Architectural Review Board and Scott Wortman to the Tree Board. His appointment to the Equestrian Preserve Committee remains open.