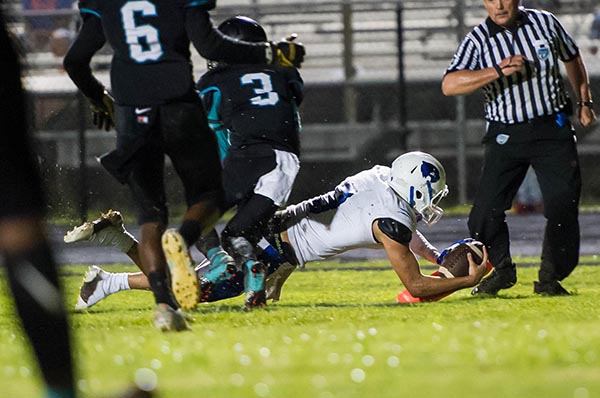 The Wellington High School football squad traveled to Royal Palm Beach High School for a non-conference matchup Friday, Aug. 25 and weathered an early storm from the Wildcats to roll to a 27-13 victory.
As wet weather rolled in, so did the Wolverine offense under the direction of backup sophomore quarterback Austin Wallace, who stepped in for injured senior quarterback Connor Rogers. Wallace recorded four touchdowns, connecting for three through the air and rushing for a score.
"It was a great win by everybody," Wallace said. "They scored first, and everybody stepped up, and as a team we are coming together."
Wallace completed 10 of 20 passes. "Austin did a great job," Wellington coach Tom Abel said. "He stepped up, and we knew he would. He's the future of this team."
Wallace linked up with six different receivers and commanded an offense that surrendered no turnovers on the night, but it was Royal Palm Beach that got on the board first, scoring on the team's first two drives. Running back Jerry Griffin ran in the first score from 5 yards out. Curtis Bunchie Jr. then ran the second one in from 3 yards out.
The Wolverines would respond each time in the exchange of possessions. On Wellington's first play, Wallace found Balitan Celestin for an 80-yard touchdown. Next it was Aniik McKenzie on a 24-yard touchdown pass that lifted the Wolverines past Royal Palm Beach 14-13, which held until the close of the half.
Wellington's defense shut down the Royal Palm Beach offense during the second half, recording three sacks, all from linebacker Jadien Durant. Constant pressure by Durant and defensive end Chandler Loiseau made it difficult for Royal Palm Beach to sustain a drive in the second half.
"Chandler, the line and the linebackers played lights out," Abel said. "They came out in the second half fired up, guns blazin' and played together."
Despite 115 yards in penalties, the Wolverines continued to find the end zone in the second half. Wallace connected with Abran Perez on a 12-yard touchdown pass early in the third quarter to extend the Wolverine lead to 21-13. Wallace then scored himself from 10 yards out to extend Wellington's lead to 27-13.
Royal Palm Beach's last chance to close the margin with under a minute left in the game was cut short with an interception in the Wolverine end zone by Wellington safety Isaac Rivera, which sealed the 27-13 win.
Wallace completed 10 of 20 passes for 174 yards, along with three touchdowns and rushing for a score. The Wolverine offense totaled 80 yards on the ground behind Marvin Pierre and Josh Solomon. Mark Anthony Richards combined for 36 yards in the air and on the ground. Perez and McKenzie each had a score. Celestin recorded 86 receiving yards and a score.
For Royal Palm Beach, Griffin and Bunchie each are credited with a touchdown.
Wellington is 1-0 on the season and will host perennial power Vero Beach High School on Friday, Sept. 1 at 7 p.m. At the same time, the Wildcats (0-1) will travel to Palm Beach Gardens High School.