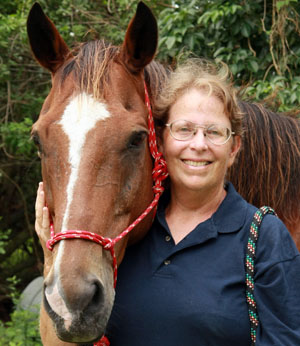 TALES FROM THE TRAILS 
When a hurricane hits, pet owners have additional worries and preparations, making sure they have adequate food, cages and up-to-date vet certificates. The pets come inside, evacuate with the family or head with them to a shelter — unless they're livestock or horses.
Many barns have open aisles and stall doors. If roofs collapse or walls fail, horses can become trapped. Flying debris can find its way inside. Plus, where do you safely store bales of hay and bags of feed? And what happens if the fences go down and the horses get out?
Luckily, Hurricane Irma jogged a bit westward and lost a bit of punch, so our area didn't experience the direct hit of a Category 5 storm. Still, this was a wake-up call for many horse owners who might not have gone through Wilma, Jeanne or Frances, and a bad memory for those who did. Two weeks after Irma, at the Sept. 23-24 Palm Beach County Horseman's Association show, some participants shared their experiences.
Maria Pisz, the office manager, estimated that attendance was about the same as usual. "The show's running smoothly, no issues," she said.
Andrea Wrzasek, a trainer and rider at Carriage Hill Farm in Delray Beach, attended with some of her clients. "Our farm did really well," she said. "We have 65 horses, and we're located at Sunshine Meadows, and all of their barns are CBS [concrete block], so the stalls are safe. We were confident in them. We gave our clients the choice of staying or evacuating, but getting out with horses is always a big decision. We were glad we chose to stay. Some who left were stuck on the roads for 17 to 18 hours, and then it was hard to find gas."
There was little damage at the facility.
"We were lucky that we didn't get a direct hit," Andrea said. "The property was pretty much unharmed. Some big oak trees came down, and we had no power for a week. But our grooms live in the barns and kept an eye on the horses constantly. We had a generator, so we had water, and enough hay and feed. The horses did really well. Not evacuating made a big difference, because they stayed in familiar surroundings. We had no turnout for a week, until the debris got cleaned up and everything was safe again. There were a few bucks and kicks once they got out again, but on the whole, we were pleasantly surprised at how well things went."
Steve Lengyl, owner of Wall Street Farm in Boynton Beach, also reflected on the storm.
"We have 24 horses at two different properties. The Boynton barn in Equus is CBS, so we never worried. We lost power for an hour. The other barn, in Little Ranches, had about 10 trees down and no power for three days, but it's a sturdy structure with tie straps and heavy roof beams, so again, I didn't worry," Steve said. "When we saw the original forecast, it looked pretty bad, but then the storm shifted. We brought in extra feed and supplies, put things up, and battened down the hatches. We never thought about leaving. That puts a lot of stress on horses and clients, and it's expensive. Some of our friends who did evacuate spent $2,000 to $5,000. We had colic medication on hand, just in case, but our horses stayed calm and relaxed."
Kim Nadler-Russo is a trainer at Bramasole Stables in Delray Beach, home to 20 horses. "We left the choice of staying or going up to our clients," she said. "Some stayed, some moved to nearby CBS barns. We did fine. We lost some trees in the paddocks and had no power for two days, but there was no damage to the barn. The horses did well. We have staff on the property at all times, so we were confident."
Peggy Thorndyke, owner of Tulocay Farms, which houses 11 horses, was concerned by the early forecasts.
"The big question, always, is stay or go," she said. "It's kind of a gamble either way, and you have to decide early. After the path shifted and the intensity lowered, we felt comfortable staying. Our barns at Sunshine Meadows are safe for anything Category 3 or lower. They've done well before. So we stayed and prayed. We had a generator for water, and we did lose power for a few days, but everything worked out fine. There was a lot of cleanup afterward… We were glad we stayed. Wilma was much worse."
Amanda Merrigan, owner and trainer at Merrigan Show Stables in the Delray Equestrian Center, said they evaluated the situation before deciding to stay or go. "We went back and forth, but ultimately decided to stay," she said. "Our barn is CBS, and we felt safe. Our wonderful staff prepared each horse by braiding dog tags into their manes and tails. We had colic meds on hand, but ended up not needing them. The horses weathered it fine, stayed calm and ate hay."
Julie DiRico, owner of Hunter's View in Delray, had 50 horses to worry about. "We made sure each had plenty of hay and water," she said. "We stocked up on colic meds, put up all the jumps, took down the stall fans, and secured anything that might fall or take flight. We braided laminated tags into manes and tails, and stayed organized."
She had faith in her facility.
"Our barn is CBS, and I was absolutely confident in its integrity," Julie said. "The horses came through beautifully. Each one had fly masks, halters and ear plugs. We lost some trees, but there wasn't a whole lot of damage. Barn managers should be proactive and keep everything well-maintained throughout the year. Our part of South Florida was very lucky. One thing hurricanes teach us: no two storms are the same. Preparation is key."