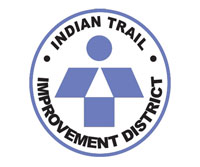 The Indian Trail Improvement District Board of Supervisors voted to remove Supervisor Betty Argue as treasurer last week after deciding that she was spending too much time at the district office.
Supervisor Gary Dunkley, the board's former treasurer, brought up the discussion, making a motion to remove Argue.
"Ms. Argue, you are down at this office a little too much," he said at the Oct. 18 meeting.
"A little too much according to who and what?" Argue asked.
"According to me," Dunkley said. "You are down here four or five hours a day. You're a treasurer. You're only supposed to do the balancing and do your checks. You're not supposed to…"
"Are you telling me how to do my job as treasurer and as a supervisor? Really?" Argue interrupted. "I think you should spend more time being a supervisor. How's that? Your opinion counts about as much as mine does to you."
Supervisor Ralph Bair, also a former ITID treasurer, joined in the discussion.
"I did the treasurer's job, and I wasn't down here at all," Bair said. "I just came down and signed checks, and made sure that the balance sheet that they gave me was good… I didn't have to check every nook and cranny and everything that went through the district. We weren't doing a whole lot at the time except for the regular business of the board."
"I check everything," Argue said, asking the finance officer to recount the things she caught that week.
Dunkley said that when he was treasurer, it took him about an hour each week or two weeks, not every day.
"If you can't handle it, Ms. Argue, maybe you should step down from being treasurer," he said.
"I can handle it," she replied. "I think I do a pretty good job as treasurer."
Argue noted that Dunkley and Supervisor Carol Jacobs had been at the office several times that day.
"How much are you guys down here in a week?" she asked. "It seems like every time I'm here, you guys are showing up, because I'm here working on the community park."
Jacobs said that she does not like how Argue has treated staff members.
"You were browbeating all the employees," Jacobs said. "I was sitting here so embarrassed, I said, 'Can I just sign this and get out of here.'"
Jacobs also said that Argue brought one employee to tears, which Argue refuted.
Dunkley made a motion to remove Argue as treasurer, seconded by Bair, which carried 4-1.
Dunkley then made a motion to appoint Jacobs as treasurer, seconded by Bair, which carried 4-1.
Jacobs was also critical of Argue's work leading the Acreage Community Park project.
"It should have been staff," Jacobs said, explaining that she has not been informed of the progress until the board meetings.
ITID President Jennifer Hager said nothing is being withheld from board members.
"That's what I don't understand," Hager said, pointing out the late hour of the meeting and the items remaining on the agenda to be addressed. "All the information is being provided, provided you read it, so with that, I am leaving in two minutes. Don't ask me to sign anything tonight. I'm not doing it."
Jacobs asked to recess the meeting to Nov. 1 to address the remaining items on the agenda.
Human relations attorney Lara Donlon asked whether the board would be comfortable waiting to proceed for a search for a new manager to replace John "Woody" Wodraska, who had announced earlier in the meeting that he did not wish to continue as manager, and board members asked her to proceed. "We need to do this ASAP," Jacobs said.
Donlon said the last time they did a manager search, they searched internally, as well as posting to all the headhunter search sites. "We will do that, and post it on the district's web site, as we did last time with similar language," she said. "The résumés will come to my office. We will forward them to the board as a whole, mailing them weekly as they come in."