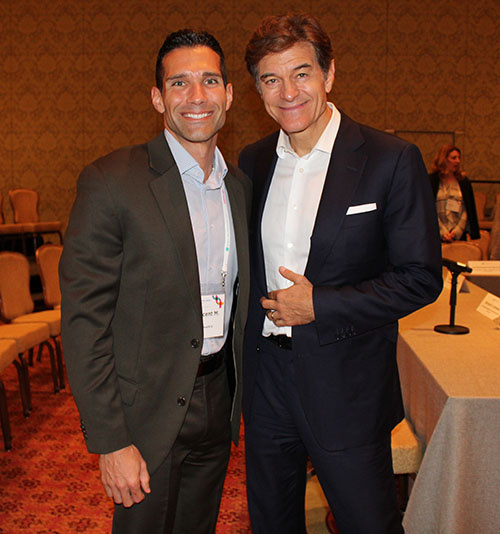 The Breakers Palm Beach played host to the Global Wellness Summit 2017 this week, inviting experts in the health profession from near and far, national and international.
Among those who were invited to take part in this unique three-day event was Dr. Vincent Apicella and Dr. Mariaclara Bago of Premier Family Health & Wellness in Wellington.
Apicella and Bago spoke at roundtable discussions at the Global Wellness Summit on Monday, Oct. 9.
"I would normally say it was overwhelming, but I want to use the word overflowing," Bago said. "I was overflowing, not only with the shear amount of information, but the sense of gratitude, the sense of happiness, everything that comes with being. It was just an experience unlike any other conference that myself and Dr. Apicella have ever been to, where it felt it was very knowledge-based. This was an experience."
Among the many health professionals in attendance were giants in the health community that included Dr. Mehmet Oz, Dr. Richard Carmona, Dr. Andrew Weil, Dr. Dean Ornish, Dr. Michael Roizen and Dr. Paul Limburg, along with Elissa Epel, PhD.
"One thing that really stuck with me that Dr. Andrew Weil said is how we need to change the culture of medicine," Apicella said. "We need to make wellness fashionable, meaning we have to get the younger population on board with thinking that a healthy lifestyle is here… and to get everyone from the millennial generation to the baby boomers on board with that. It's not a chore to have a healthy lifestyle. It's something that should be the right thing to do moving forward."
The entirety of the event gave Bago a sense of community on a grand scale.
"To see so many organizations internationally proclaiming that same model of health and well-being was very inspiring to me to know that I'm not by myself, that I have resources, that I now have networks to tap into, and that I actually need to be more vocal about our model and what we do to reach more people," Bago said.
Dr. Oz was among the main speakers. During his presentation, he proclaimed mental health as one of the leading healthcare issues of the 21st century. Apicella agreed and said it's already noticeable.
"We don't have mechanisms for awareness, diagnosis and treatment that are strong enough in this country to help the mentally ill from multiple standpoints in our system. We have a difficult time treating the mentally ill population," Apicella said. "That is having a spiral of effects in our culture, from people who are dysfunctional at work to domestic violence and abuse, to mass shootings and crime. All of that can lead back to the mentally ill and our inability to have a public awareness of it, to identify it appropriately, and give everyone from healthcare providers to families the options of treatment."
During lunch, Bago bumped into famed outdoorsman Wim Hof of the Netherlands, also known as "The Iceman."
"A lot of what he had to talk about was how he could be in an environment, an artificial environment, where they submerge him in extremely freezing ice water, and he can maintain his body at normal temperatures. He uses his mind to control his physiology," Bago said. "The relevance to our conference is that the ability to be in a particular state of happiness, of control of your heart rate, of control of your body so that you don't go through depression is controlling your biochemistry."
One of the many highlights of the event came in the form of a panelist discussion that included Apicella alongside doctors Oz, Weil, Ornish and more.
"We need to change the way healthcare professionals are educated from day one, so that we don't have to go through this process," Apicella said. "Then we'll be able to do more research. Then we'll be able to educate more. Imagine if every physician or provider has the same experience and stories. I asked at my roundtable today, 'Where do you folks think most physicians learn about chronic disease?' And they think that we learn that in medical school and in residency, but the fact of the matter is most physicians learn how to treat chronic disease from a pharmaceutical rep, and this is where we have to evolve out of."
On the final day of the summit, a special announcement was made in the ballroom where the keynote addresses were given. The concept was dubbed the "moonshot" to eliminate preventable disease.
"Right now, the focus of disease in our country is on the treatment of chronic disease, so it's the basis of all pharmaceuticals and all healthcare dollar utilization," Apicella said. "It's all on this treatment, this epidemic of treating chronic disease. So, to say that we're going to erase that, and we're going to eliminate chronic disease in our culture, they're making the analogy of that's our shot to the moon."
Both Apicella and Bago have been invited to attend the Global Wellness Summit 2018 in Italy next year.
For more information about the Global Wellness Summit 2017, visit www.globalwellnesssummit.com.
Premier Family Health & Wellness is located at 1037 State Road 7 in Wellington. For more information, call (561) 798-3030 or visit www.premierfamilyhealth.com.