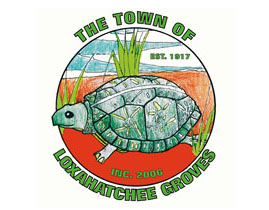 A resolution reinstating the town's code enforcement budget after the Loxahatchee Groves Town Council gutted it at its previous meeting was approved Tuesday, Oct. 3 after council members debated where other budget cuts would come from.
The council haggled over what departments to take from in order to cover the shortfall before finally approving the resolution.
On Sept. 19, council members had wrangled to reach a final tax rate of 2.15 mills, below the staff recommendation of 2.6 mills, in the proposed budget for fiscal year 2017-18, which began Oct. 1. The budget is up about $300,000 from the current year, largely to pay for higher contract costs with the Palm Beach County Sheriff's Office.
Approving a 2.6 millage rate would have required a unanimous 5-0 vote, and Councilman Dave DeMarois held out at first for the current tax rate of 1.47 mills before finally consenting to 2.15 mills.
As a result, the council set upon where to make cuts to balance the budget, which is required by state statute, starting by cutting code enforcement in half.
On Tuesday, Town Manager Bill Underwood told the council that the resolution was being presented as a result of the council's action at its previous meeting arbitrarily reducing the contracted code enforcement amount by $18,000, which he said had to be put back in.
"What is presented to you is a proposed budget amendment reinstating code enforcement back to its prior amount of $53,840," Underwood said.
Councilman Todd McLendon made a motion for discussion, seconded by Vice Mayor Ron Jarriel, to approve the resolution, but ultimately wound up voting against the motion, which failed 3-2 after McLendon objected to gutting the planning and zoning budget to reinstate code enforcement.
"Where some of this money is going to come from is the planning and zoning contract, which helps us modify the [Unified Land Development Code] and the comp plan and that sort of thing," McLendon said. "The reason for incorporation was to preserve Loxahatchee Groves, and those are the primary core of doing that, but now we're going to seriously cut the money, spending on less important things for the town. Our ULDC and comp plan are the only things that gives us the tools to do that, but we're cutting $18,000 from that. I don't think that's a good place to take it from."
McLendon said approving the resolution to hold up the code enforcement contract would put the council back to where it was a month ago when it scrambled to take money from other accounts in order to approve a tax rate lower than staff's recommendation.
"We had one council member who didn't want to go with the rate that would have allowed us to do all of this," he said. "I question again, are we going to ignore the most important things in our town for the following year by not trying to preserve and protect, by removing that money from the ULDC and comp plan changes?"
Councilman Ryan Liang said not approving the resolution as presented would raise the question of where to cut the budget, and McLendon said the council would need to again scrutinize where to take it from as it did previously.
"I didn't get us in this situation," McLendon said. "Ryan, you didn't get us in this situation. We need to hear from the person who did."
Mayor Dave Browning said the recommendation was from the town manager. "We maybe don't like it, but we'll live," he said.
Vice Mayor Ron Jarriel said he had spent two hours that day with Underwood discussing the budget, and agreed that the planning and zoning cut was the best option.
"Bill made these suggestions," Jarriel said. "He feels like these are the best places that we can cut and still survive. I support my town manager. I think we have a higher priority than just [planning and zoning]. I think the top priority should be the roads in this town, and they're getting worse and worse every day."
McLendon said he agreed that the roads are also a major issue, but pointed out that there are code enforcement cases coming up that need to be addressed.
"We've got all these issues that are coming to light because of code enforcement, and we need to fix these codes," he said. "I don't want to take the position that we should just ignore these codes. I have a problem enforcing a rule book that we all know has major mistakes in it, and we're not going to do anything to fix it because of this budget."
Jarriel said the council and manager could make additional budget changes as they go through the year to see that departments remain in operation.
During public comment, former Loxahatchee Groves Water Control District Supervisor John Ryan, a staunch opponent of the town's management firm, said he was disappointed that a 3 percent increase for town management had not been looked at for cuts.
"I've always had concerns about Bill's contract and the amendment to the contract, but setting that aside… Bill left in his 3 percent increase, which is $14,500," Ryan said. "I think, given the problems that we've had in the last year and the mistakes town management has made, I'd rather see the $14,500 increase in his compensation cut out, and some of the other items that the council would look at as more important restored."
The question was called, and the motion failed 3-2 with McLendon, DeMarois and Liang opposed. The council once again set out to remove money from other departments, reducing council travel expenses from $7,000 to $6,000, election expenses from $10,300 to $5,300, CERP's budget of $2,000 to $500, and cutting $2,000 from brand marketing and $9,000 from planning and zoning.
After they balanced the budget once again, McLendon made a motion to approve the resolution, which carried 5-0.