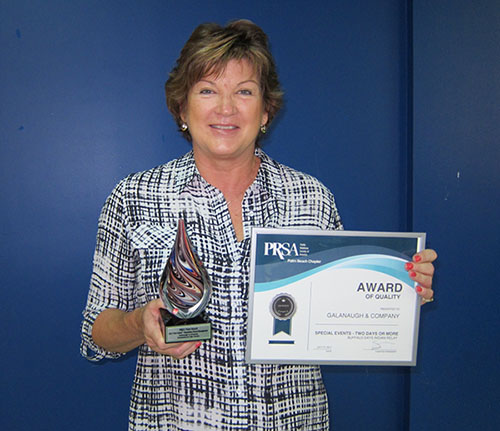 Karen Galanaugh of Galanaugh & Company Marketing/Public Relations of Wellington swept the public relations industry awards in 2017, culminating in her work being honored by the National Federation of Press Women at its annual conference last month.
Galanaugh, a freelancer and member of the Wellington Chamber of Commerce, does public relations for many clients, including the Boca Raton Airport, the Brandywine Zoo and several high profile real estate projects, including the Bristol Palm Beach and 236 Fifth Avenue.
Galanaugh, a seasoned public relations specialist and marketer, entered two work projects in industry contests in 2017: a communications campaign for the Brandywine Zoo in Wilmington, Del., and a multi-day equestrian event she produced last summer with Native American tribes in Wyoming. The Wyoming event won a Bernays Award of Excellence from the Gold Coast PR Council, a Radiance Award presented by the Public Relations Society of America (PRSA) Sunshine District (statewide) and a Palm Award of Quality in the PRSA Palm Beach Chapter competition.
The zoo communication campaign was honored with the coveted Palm Award in the PRSA Palm Beach Chapter competition, and a Delaware Press Association first-place honor in its statewide competition, which made it eligible to compete against other states' first-place press award winners throughout the United States. Galanaugh's program for the Brandywine Zoo won first place and was honored by the National Federation of Press Women this September at its annual conference.
For additional information, visit www.galcopr.com or e-mail info@galanaugh.com.