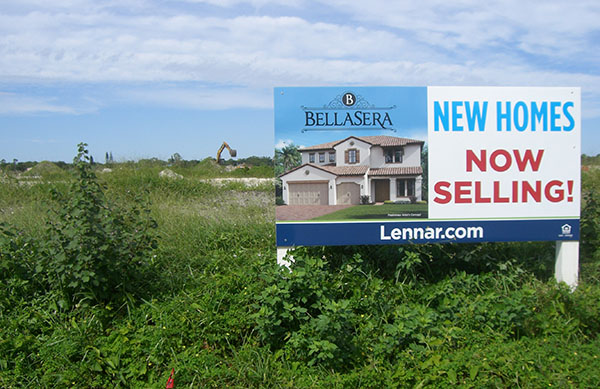 BY CRAIG CAMPBELL
The Royal Palm Beach Planning & Zoning Commission met Tuesday, Oct. 24 and granted a request by Lennar Homes for architectural approval for seven new model homes at their BellaSera development. The measure passed unanimously.
Development Review Coordinator Kevin Erwin said village staff recommended approval of the application, which brings to 22 the total number of models approved for the planned residential community on the site of Royal Palm Beach's former wastewater treatment plant.
The site is off Crestwood Blvd., adjacent to the M-1 Canal and near H.L. Johnson Elementary School. After years of discussion, the property was designated for single-family homes by the Royal Palm Beach Village Council in 2014. Lennar's 385-unit site plan was approved in November 2015, Erwin added.
Brian Terry of the Wantman Group, agent for the applicant, was joined at the meeting by Nelson Bennett of Lennar. Terry explained that the new housing types were added to the plan because of a recent acquisition of the WGI product lines by Lennar.
"It's a moving marketplace, so having some variety is something [Lennar] wanted to provide, as well as this brings in two new single-story versions that weren't previously approved," Terry said, adding that the seven proposed models were architecturally consistent with everything that had been previously proposed and approved.
"I was glad to see more single-story units," Commissioner Jackie Larson said. "There are a lot of two-story units, and not every family wants a two-story."
Commissioner David Leland agreed. "It's nice to offer choices to your customers," he said.
Commissioner Ross Shillingford asked for a clarification regarding whether the application covered landscaping regulations, to which Erwin replied that each home design will have its own landscaping style, but it must be in line with the village's codes.
Commission Vice Chair June Perrin liked the proposed colors.
"I like the color schemes that blend in with the natural urban development," she said. "I look forward to seeing the models soon."
Commission Chair Richard Becher was also supportive of the proposal.
"I just wish you guys the best of luck, and I hope you are able to sell all of them as time allows," he said.
Construction is now underway on the site, with infrastructure being the first step. After that stage is complete, the model homes will be constructed so potential buyers will be able to see what is available to them.
The Lennar Homes BellaSera sales office is located at 980 Crestwood Blvd. in Royal Palm Beach. For more information, call (561) 567-0818 or visit www.lennar.com.
Also at the meeting, village staff recommended approval of new language to the ordinance that covers senior housing regulations. Erwin explained that there was a recent change from a one-person-per-room requirement to a two-person-per-room standard. Due to this modification, wording in the ordinance must reflect the change. This included a change in the maximum number of rooms allowed in each facility to a maximum number of residents.
There was also a language modification regarding recreation requirements, which included a minimum of two shuffleboard courts and two tennis or bocce ball courts per facility, Erwin said.
He said that village staff recommended that the commissioners approve the changes, pointing out that the council unanimously approved the preliminary reading of the changes on Oct. 19.
Shillingford asked for an explanation as to why the changes allowed for no variances regarding the minimum amount of square footage in the rooms and maximum number of residents per facility. Erwin responded that the restrictions are only for room sizes and resident numbers so that the senior living facilities would meet the village's desired standards.
Shillingford also wanted to know why the language changes didn't allow for flexibility on the recreation requirements.
"It's a standard of living situation. The council expressed a desire for a higher standard of living for our senior living facilities," Village Attorney Jennifer Ashton said. "We feel this minimum of two courts is a reasonable standard."
The other members of the commission were satisfied with the proposed changes in language, and the measure passed unanimously.
At the end of the meeting, Becher asked about Gov. Rick Scott's proposed requirement for generators in assisted-living facilities, which came about due to a nursing home tragedy after Hurricane Irma.
Erwin and Ashton both said the requirement is still working its way through various levels of the state government, so it's hard to know exactly how it will affect facilities in Royal Palm Beach.
The next meeting of the Planning & Zoning Commission is scheduled for Tuesday, Nov. 28 at 7 p.m.