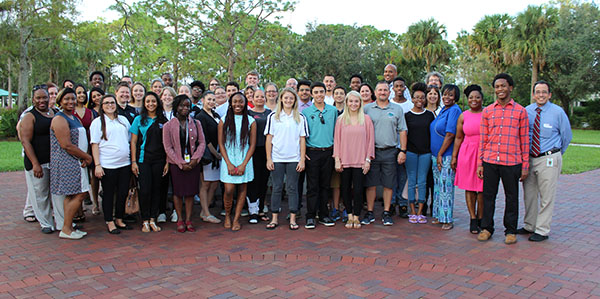 Royal Palm Beach High School Principal Jesus Armas gave his annual report to the Royal Palm Beach Education Advisory Board on Monday, Oct. 2.
Armas began his report by focusing on the high school's vision, relating to board members new and old that it continues to be the instrumental guide that the school's faculty and students follow.
"To me, the most important thing here is the fact that at Royal Palm Beach High School, we're dedicated to meeting the holistic needs of our students. It's not just about test scores. It's always about the whole child," Armas said. "We have them for four years. We get them as 14-year-old children, and we graduate them as young adults. And we take that responsibility very seriously."
Safety was a key focus for Armas in his report. The school is kept safe through the commitment of three student services assistant principals, two full-time police officers, a police aide stationed at the front of the school's gate, six full-time personnel for security purposes, one dean of student services and an 18-member crisis response team.
"First and foremost is our school supervision plan, as to where we have our adults on campus and when and where they are," Armas said. "[And] a fully operational, duty-specific crisis response plan that we have, our evacuation drills, our safety committee meetings and the use of 40 surveillance cameras."
To ensure safety, relationships between students and faculty are what Armas said he strives to maintain and continue to create. He said it is the highest goal to form those relationships between students and staff.
"Why?" Armas asked rhetorically. "Because when the adults create relationships with kids, when the adults make the students feel safe, when every student has an adult that they can go to in times of trouble, that's when you know that you have a safe campus."
Armas said the relationships formed not only ensure immediate safety, but they will also create a higher likelihood that students will trust in staff to help in times of trouble.
"We always tell our students that if you tell us when something is wrong, 999 times out of 1,000, we will fix it and get it right for you," he said.
Armas did not show up alone at the board meeting. He brought evidence of the relationships that exist on campus between students and staff.
One by one, parents, faculty, students and children walked up to opposite microphones, as they introduced themselves to the education board, detailing their roles at the school and the relationships they share with each other.
"What we have here today are 19 Royal Palm Beach High School staff members who have a child or grandchild going to the school," Armas said. "What we have here are 16 employees who are Royal Palm Beach High School alumni. They love the school so much that they not only graduated there, they're back, and they're working with us and for us."
As a parent/faculty member stepped to a podium and spoke, there was a student/child of that parent who stood opposite them in the room. If the faculty member didn't have a child at the school, they were alumni of the school, so there was a long-standing Royal Palm Beach connection.
"This is really the family of Royal Palm Beach, isn't it?" Board Member David Kendle said.
As the family at the school continues to grow, so does its graduation rate. The projected numbers for the graduation percentage for the Class of 2017 was 91.5 percent, exceeding the school district's goal for public high schools, according to Armas' report, with a class size of 527 and a graduation total of 482.
The report also showed there were three diplomas counting against graduation, which Armas said would see changes within this school year, and there were nine students who received certificates of completion, but did not earn a diploma because they failed to pass the FSA reading exam.
"All nine of those were students who have English as a second language," Armas said. "So, we have nine students who did everything and really should graduate because they did everything else — credits, GPA, everything else — and they just couldn't pass what I deem an unfair, biased test."
The dropout rate for the school came in at 5.3 percent for its 2017 graduating class.
"When you look at non-completers and dropouts at five and 28, that's the one place where we don't have that quite right," Armas said. "The state will sometimes call a non-completer a dropout and vice versa. But we know that those kids, that 6 percent, are kids that got away from us somehow, and it wasn't for lack of effort or because our people don't know what they're doing. They just got away from us."
Among regular academics at the school are different programs that include the newly added Navy and JROTC program, the newly established IB program, AICE, AP and AVID, among other college and career academies.
Further reaching out to build the network at the high school, Armas shared a text alert feature that the school is offering to parents of students and members of the community. Text @rpbhsinfo to 81010 to receive alerts about the goings-on around campus. You can also follow the school on Twitter @RPBHSOfficial. For more information, visit www.rpbhs.org.
"I encourage you to sign on there," Armas said. "I send out messages in the community to anyone who wants to know, and that's a way that we also institute our safety plan through that kind of communication."
The school is also offering an app available in Apple and Android app stores. There are safety features that help to drive home the vision of the school. "Let's say [the students are in] a class," he said. "There's a substitute, and the substitute has lost control of the class. A student can then send us a message. We get an immediate e-mail, and we will go up and handle the situation right away. The kids use it, and it really has worked out to be a very good tool for us."
Committee Chair Kevin Abel applauded Armas and his contingent of RPBHS representatives for their accomplishments over the past school year.
"You are correct that there is no greater testimony than having employees from your school be able to trust the culture that you all have built at Royal Palm Beach High School, so congratulations on that," Abel said. "The focus on relationship-building prior to a crisis is critically important. It is one of the first rules I learned in crisis management. You don't build relationships in the middle of a crisis. You build it before for both preventative and response measures, so I applaud you and your staff for having that as a philosophy."